Download all goals video highlights of Barcelona vs Juventus 3–1 of UEFA Champions League 2014–15
For the fifth time, Barcelona lifted the trophy of UEFA Champions League, defeating Juventus by 3–1 at Olympiastadion. Barca took the UCL trophy from their EL Clasico rivals who lifted it tenth time last season. We have another Spanish champions in the form of Blaugrana. Goals from Ivan Rakitic, Luis Suarez and Neymar claimed the European crown. Also, Juventus players receive a guard of honour from the Barcelona team as the go up to receive their runners-up medals. The match highlights video is now available for download. Scroll down this page to download video of Barca vs Juventus 3–1.
Download UEFA Champions League 2014–15 Final Match Video
There were no surprises in the Barcelona starting eleven, with the lethal South African trio of Lionel Messi, Neymar and Suarez up front in attack. Andres Iniesta, Sergio Busquets and Rakitic composed the midfield, while in defense goalkeeper Marc-Andre ter Stegen was shielded by a back four of Dani Alves, Gerard Pique, Javier Mascherano and Jordi Alba.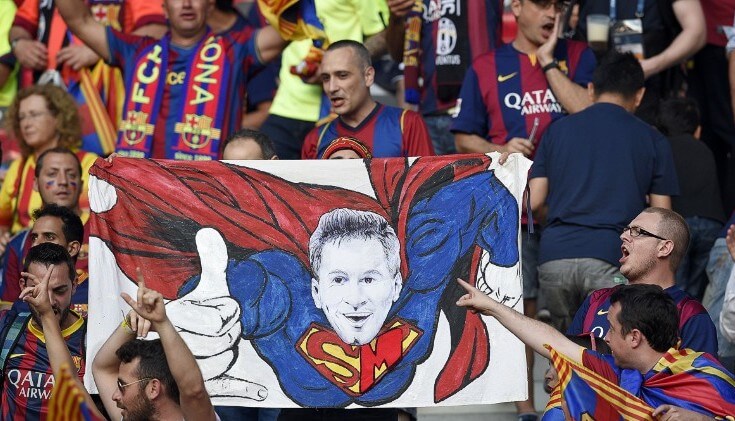 Download Barcelona vs Juventus 3–1 Video Download: click here
Ivan Rakitic was the first goal scorer of UCL 2014–15 final. It was fastest ever goal of Barcelona in Champions League final. Thereafter, Barca defended well and finished first half leading by 1–0. In second half, former Real Madrid forward, Alvaro Morata who eliminated his ex-club scored the equalizer.
The draw didn't last long as Luis Suarez restored Barcelona's lead a little over 10 minutes later. It was 50–50% percent possession. Juventus also had 6 goals on target, but failed to convert them into goal. Neymar's last strike confirmed Barcelona's third title of this season. Barcelona will now compete against Sevilla FC in final of UEFA Super Cup.
Champioooooons pic.twitter.com/EMNsWcUekA

— FC Barcelona (@FCBarcelona) June 6, 2015
There was great fan support for both teams at Olympiastadion. Juventus fans kept on supporting the Italian champions, while Barca fans were spotted holding Superman sketch of their star striker Lionel Messi.
So download the goal highlights video of Barcelona vs Juventus and relive the memorable moments.