The Argentine forward Lionel Messi speaks up about his strongest opponents and there is name of Cristiano Ronaldo of-course. According to reports of goal.com, the four times FIFA Ballon D'or winner didn't select only one, but names some of the great footballers of all time as his toughest opponents. Today, we are living in football era where Messi vs Ronaldo rivalry is considered as the most popular individual rivalry. But the statement of Messi represents that Ronaldo is not only his toughest rival. Read the full interview of Lionel Messi below.
Cristiano Ronaldo Is One Of My Toughest Opponents, Says Messi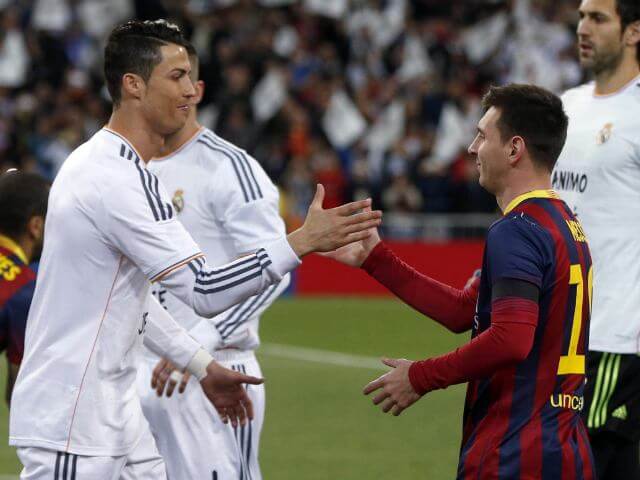 "I don't want to single one out, but I'd say that I'm happy that most of them play for Barcelona and I've only played against them internationally. I've faced Neymar, Suarez, Iniesta, Xavi and they are very tough. And of course, there is Cristiano, Robben, Ribery, Ibrahimovic, Sergio Aguero. But I can't pick one." When Messi was asked about the best player at Camp Nou, he replied "Impossible! It is so hard to say. Players like Xavi and Iniesta, they have been at the hear of this club for so long, but they still train at 100%. They are right up there with the best trainers, and as club captain and vice captain, they inspire the rest and lead by example. Who is the laziest trainer? Nobody! You can't be a lazy trainer at Barcelona." Read also: Footballers birthdays in all months "I'm lucky. I've played with so many wonderful forwards over the years. I had a great connection with Ronaldinho. I played with Samuel Eto'o, with Thierry Henry, with Pedro, David Villa, Alexis! We all played differently together, but each player had fantastic assets. And it's not always forwards that give you the most assists, either — look at Dani Alves, he makes lots of chances for me. So it's hard to compare, but I have to say that it is hard to top lining up alongside Neymar and Suarez." Read also: Buy Lionel Messi jersey online in India The member of Barcelona's current trio have not scored any goal in first two weeks of La Liga. On the other side, Cristiano Ronaldo failed to put his name on score sheet. Messi, Neymar and Suarez scored 122 goals in last season which meas almost 70% of the total scored by Barca in their dream treble winning campaign. Messi feels they can be an even greater threat in the 2015–16 season.