Copa America 2015 is the main football tournament of South America which is organized by CONMEBOL [under FIFA] after every four years. In 2015, the confederation will host 44th edition of Copa America. Total of 12 teams will compete against each other for the title. If your search is something like "full information of Copa America 2015," then you are at correct place. Shortcuts Host Nation Mascot Teams Teams Squads Telecasting Rights Group Stage Games Points Table Knockout Phase
Copa America 2015 Host Nation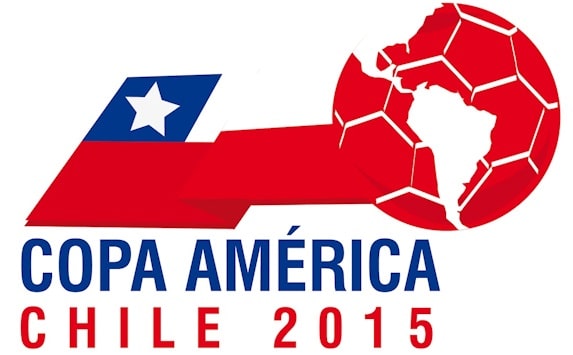 Star Date: 11 June 2015 End Date: 4 July 2015 This time, CA2015 will be hosted by Chile. This is the eighth time Chile is hosting this competition. Actually, Brazil was selected to host this South American football tournament, but due to organization of Confederation Cup 2013 and FIFA World Cup 2014, they refused to do so. Later, Chile and Brazil's football federations decided to swap the tournaments of 2015 and 2019. This means Brazil will host 2019CA. Chile have picked up total of nine football stadium to host this campaign. We got the names of some hosting stadiums which are Estadio Regional de Antogagasta, Estadio Sausalito, Estadio Nacional, Estadio Monumental David Arellano and Concepcion. Out of these grounds, Nacional have highest seating capacity with 48,665.
Copa America 2015 Mascot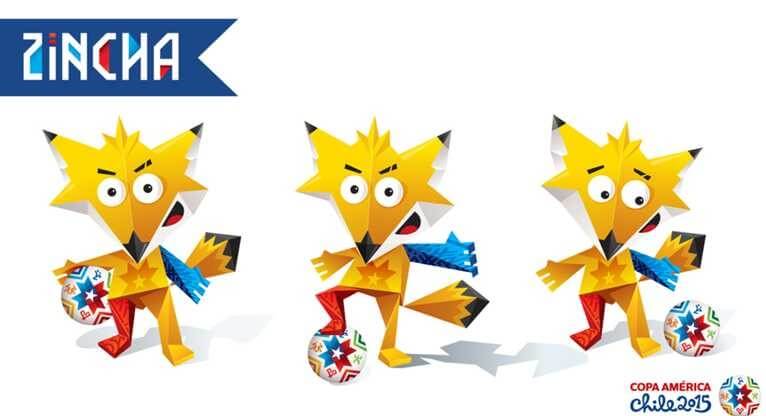 On seventeenth of November 2014, CONMEBOL announced the official mascot of Copa America 2015. Based on the public votes, Zincha name was selected for its official mascot. The name is inspired by fox. Zincha is a word made from the combination of "fox" and a "fan". Two other names for the mascot were Andi [In the reference to the world famous Andes mountain range], and Kul [Culpeo family of the fox and kultrun]. Winner Zincha received 47.1% of votes, defeating Andi [27.2%] and Kul [25.7%]. To select this name, thousands of Chileans voted for the mascot.
Copa America 2015 Teams
CONMEBOL had total of 10 teams to run this tournament. They wanted to add two more teams, so they sent invitations to Mexico and Japan. Mexico accepted the invitation, but Japan didn't. After refusal of Japan, China was invited to join 11 teams, but due to clash of 2018 FIFA World Cup qualification matches of AFC, they rejected the invitation. In the end, Jamaica accepted the invitation and became the twelveth of the competition.
| | | |
| --- | --- | --- |
| Group A | Group B | Group C |
| Chile | Argentina | Brazil |
| Mexico | Uruguay | Colombia |
| Ecuador | Paraguay | Peru |
| Bolivia | Jamaica | Venezuela |
2015 Copa America Team Squads
The team squads for this tournament are not yet announced. Once announced, this article will be updated.
TV Telecast / Broadcasting Rights
Telecasting rights of Copa America 2015 are also announced. Given below is the list of broadcasting rights.
Latin America: beIN Sports, DirecTV Sports and ESPN Latin America
Argentina: TyC Sports and El Trece
Bolivia: Bolivision, Unitel and Tigo Sports
Brazil: Rede Globo, SporTV and ESPN Brazil
Chile: Canal 13 and TVN
Colombia: RCN Television, Caracol Television and win Sports
Ecuador: Gama TV and TC Television
France: beIN Sports
Jamaica: CVM TV
Japan: NHK
Mexico: Televisa
Paraguay: Tigo Sports and Telefuturo
Peru: America Television
Singapore: StarHub
United States: beIN Sports Univision
Uruguay: Tenfield and Teledoce
Venezuela: Venevision and DirecTV Sports Venezuela
Group Stages Match Dates Time
Match
Date
Time
Group A
Chile vs Ecuador
11 Jun
8:30 pm
Mexico vs Bolivia
12 Jun
8:30 pm
Ecuador vs Bolivia
15 Jun
6:00 pm
Chile vs Mexico
15 Jun
8:30 pm
Mexico vs Ecuador
19 Jun
6:00 pm
Chile vs Bolivia
19 Jun
8:30 pm
Group B
Uruguay vs Jamaica
13 Jun
4:00 pm
Argentina vs Paraguay
13 Jun
6:30 pm
Paraguay vs Jamaica
16 Jun
6:00 pm
Argentina vs Uruguay
16 Jun
8:30 pm
Uruguay vs Paraguay
20 Jun
4:00 pm
Argentina vs Jamaica
20 Jun
6:30 pm
Group C
Colombia vs Venezuela
14 Jun
4:00 pm
Brazil vs Peru
14 Jun
6:30 pm
Brazil vs Colombia
17 Jun
8:30 pm
Peru vs Venezuela
18 Jun
8:30 pm
Colombia vs Peru
21 Jun
4:00 pm
Brazil vs Venezuela
21 Jun
6:30 pm
Each team will play one game against their respective group rivals. In this way there will be six games in each group. Winning team will be awarded with three points and one point to each team for draw. Top two teams will qualify for quarter final, whereas top 2 third placed teams from 3 groups will get the ticket of quarter final. On 11th of June 2015, host nation will begin the competition against Ecuador at Estadio Nacional football ground. Defending champions Uruguay's first match of group stage is against Jamaica.
Copa America 2015 Points Table
Group A
#
Team
P
W
L
D
GF
GA
GD
Pts.
1
Chile
-
-
-
-
-
-
-
-
2
Mexico
-
-
-
-
-
-
-
-
3
Ecuador
-
-
-
-
-
-
-
-
4
Bolivia
-
-
-
-
-
-
-
-
Group B
1
Argentina
-
-
-
-
-
-
-
-
2
Uruguay
-
-
-
-
-
-
-
-
3
Paraguay
-
-
-
-
-
-
-
-
4
Jamaica
-
-
-
-
-
-
-
-
Group C
1
Brazil
-
-
-
-
-
-
-
-
2
Colombia
-
-
-
-
-
-
-
-
3
Peru
-
-
-
-
-
-
-
-
4
Venezuela
-
-
-
-
-
-
-
-
Knockout Round
After group stage, knock round or you can call it quarter final round will be played between 8 teams from 24th June. Quarter finals: 24 to 27 June Semi finals: 29 and 30 June Third Place: 3 July Final: 4th July 2015. Note: Page last updated on 1 Mar 2015