2015 Copa America Kits of all teams Jersey Overview with Images
For the South American football competition which is going to be hosted in Chile, kit manufacturers have launched the kits of their respective teams. One of the leading sports brands, Adidas and Nike have introduced new jerseys for 2015CA. The German sports brand Adidas is expected to launch kits of at least 4 Copa America teams. Check out the all teams jerseys of this competition below.
Argentina Copa America 2015 Kits
On 2nd Feb 2015, Adidas unveiled new home and away kits of Argentina for 2015CA football competition. Based on national colors, the new jersey and shorts of Argentina football team are featured with Sky blue and white applications. Team's football logo is on left chest, while that of Adidas is on right chest. On shoulders, three iconic white Adidas stripes are designed from neck to arms. It represents the traditional colors of Argentina with a classic kit design.
The new away jersey of Argentina for 2015 Copa America is featured with navy blue-white and light blue applications. Adidas removed the vertical stripes on away jersey. The dark sleeves cuffs and v‑collar creates a simplistic design for the new Argentina 2015 away jersey. These new jerseys of Argentina are expected to be used until 2017.
Colombia 2015 Copa America Kits
The dynamic lines of Colombia's 2014 World Cup jersey are removed in this new jersey. It is designed to a new classical kit design, inspired by cycling theme. Different yellow shades are used on home jersey of Colombia. Sleeves are provided with blue and red rounds. Stripes are also in blue applications. At the bottom of Colombia's home jersey, navy blue finish is provided.
Colombia 2015 Copa America kit for away games is featured with navy blue that makes it modern kit with a V‑collar. On the chest, the graphics are in bold interpretation of the Colombian flag, inspired by cycling shirts. Logos and stripes on away shirt of Colombia for 2015 Copa America are in yellow appearance.
Mexico 2015 Copa America Kits
Mexico will wear black jersey featured with green linings. Home jersey is black with simple black crew neck collar, while a special dark grey pattern on the front of the new Mexico Jersey creates a modern look. at the bottom of jersey, red-white-green layouts are there featuring the national flag of football team.
In away kit, black is completely replaced by white. Kit manufacturer used a unique white polo collar, which features a striking green. For designing three stripes and logo, black is used instead of green in away jersey of Mexico for CA2015 football tournament.
Paraguay New Kits for 2015CA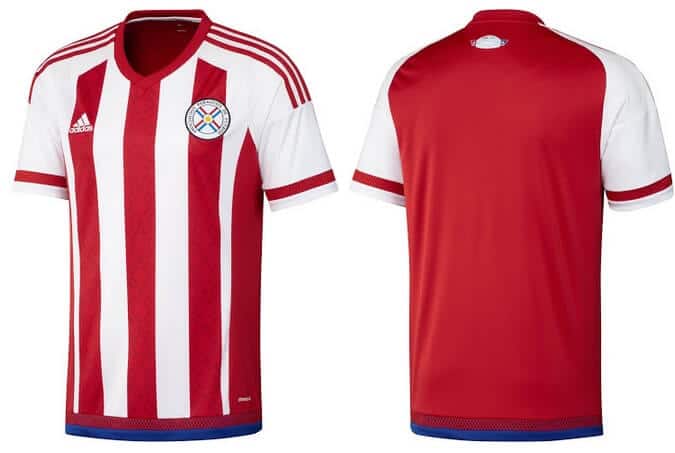 New kits of Paraguay are quite similar as that of Argentina. At the front of jersey, three vertical stripes are in red, while its back is plain classical red. The solid red is also used for v‑collar of the new Paraguay 2015 Copa America shirt, whereas a blur stripe is at the bottom of the new Paraguay kit. Adidas launched these new kits of Paraguay in February 2015 for the main football tournament of South America.