After the announcement of all three Copa America 2015 groups, fans have started making predictions. CA2015 is beginning from 11th June in Chile this year and we have some best teams from South America which are the favorites of this competition. All twelve national football teams of South America are categorized into three groups having four teams each. In order to qualify for the quarter finals of this competition, teams have to finish at at-least third place. Which team can make it to the next round? Let's have a preview and prediction of CA2015.
Copa America 2015 Group A Preview & Prediction
Teams: Chile, Mexico, Ecuador, Bolivia The first group is featured with hosts Chile. Being host nation, Chile are one of the favorites to book ticket of next round. Their World Cup 2014 performance will be remembered for years as they were responsible for elimination of Spain in Brazil World Cup. All eyes will be on Alexis Sanchez throughout the tournament.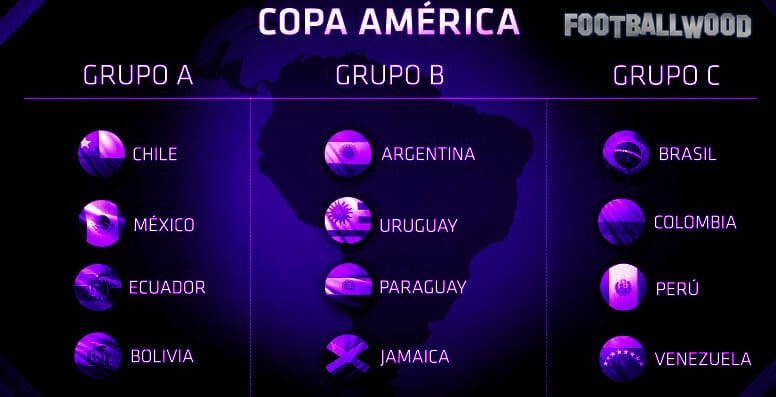 One team that Chile have to worry about is Mexico. The experienced, the unpredictable and the counter attack specialists are also the favorites of Copa America 2015. They have the experience of playing fifteen FIFA World Cup competitions. In last Copa America [2011 Argentina], they were eliminated in group stage games which means they'll have more hunger for the title victory. Mexico are the two times runner-ups of Copa America [1993 and 2001].
Although Chile and Mexico are favorites, but Ecuador and Bolivia could creates hurdles in their journey. During same campaign of 1959 and 1993, they finished at fourth spot.
Predictions: Chile and Mexico to next round.
Copa America 2015 Group B Preview & Prediction
Teams: Argentina, Uruguay, Paraguay and Jamaica This is the group to which you can call group of death as it have the vice World Cup champions, most successful team of Copa America in the form of Uruguay. Argentina have probably the best squad in this tournament having Lionel Messi, Sergio Aguero, Angel Di Maria, Javier Mascherano. Argentina's first match is against Paraguay. Uruguay vs Argentina will be the most awaited game of this group as it will be clash of Barca's team-mates Lionel Messi vs Luis Suarez [if FIFA removes his ban]. The defending champions Uruguay could make it to the quarter final round if they wins minimum of two games out of three. They have won Copa America fifteen times, more than any other football team. Two times champions Paraguay enjoyed the golden generation of football from 1990 to 2006. Paraguay and Jamaica stand no chance whatsoever while Uruguay will be playing playing without Luis Suarez. In short Argentina and Uruguay are the favorites to qualify for the quarter final. Predictions: Argentina and Uruguay to next round
Copa America 2015 Group C Preview and Prediction
Teams: Brazil, Colombia, Peru, Venezuela It's not just Brazil vs Colombia, it will be rivalry of Barca's Neymar vs Colombia's James Rodriguez. On 17th June, Brazil will face Colombia in group stage round at Estadio Monumental David Arellano, Santiago. Last time, Brazil eliminated Colombia in quarter final round of 2014 FIFA World Cup. So Colombia will be looking to take revenge of their last world cup defeat. One time Copa America champions, Colombia are another giants of this competition with having one of the balanced squads. Last World Cup golden boot winner will be the player to watch. Colombia is a team at its peak that deserved better in Brazil if not for its controversial loss in quarter final of 2014WC. Predictions: Brazil and Colombia to next round.