After the announce­ment of all three Copa Amer­ica 2015 groups, fans have star­ted mak­ing pre­dic­tions. CA2015 is begin­ning from 11th June in Chile this year and we have some best teams from South Amer­ica which are the favor­ites of this com­pet­i­tion. All twelve nation­al foot­ball teams of South Amer­ica are cat­egor­ized into three groups hav­ing four teams each. In order to qual­i­fy for the quarter finals of this com­pet­i­tion, teams have to fin­ish at at-least third place. Which team can make it to the next round? Let's have a pre­view and pre­dic­tion of CA2015.
Copa America 2015 Group A Preview & Prediction
Teams: Chile, Mex­ico, Ecuador, Bolivia
The first group is fea­tured with hosts Chile. Being host nation, Chile are one of the favor­ites to book tick­et of next round. Their World Cup 2014 per­form­ance will be remembered for years as they were respons­ible for elim­in­a­tion of Spain in Brazil World Cup. All eyes will be on Alex­is Sanc­hez through­out the tour­na­ment.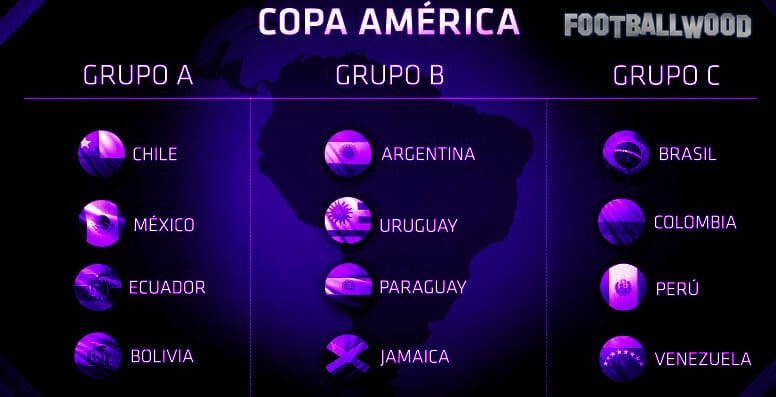 One team that Chile have to worry about is Mex­ico. The exper­i­enced, the unpre­dict­able and the counter attack spe­cial­ists are also the favor­ites of Copa Amer­ica 2015. They have the exper­i­ence of play­ing fif­teen FIFA World Cup com­pet­i­tions. In last Copa Amer­ica [2011 Argen­tina], they were elim­in­ated in group stage games which means they'll have more hun­ger for the title vic­tory. Mex­ico are the two times run­ner-ups of Copa Amer­ica [1993 and 2001].
Although Chile and Mex­ico are favor­ites, but Ecuador and Bolivia could cre­ates hurdles in their jour­ney. Dur­ing same cam­paign of 1959 and 1993, they fin­ished at fourth spot.
Pre­dic­tions: Chile and Mex­ico to next round.
Copa America 2015 Group B Preview & Prediction
Teams: Argen­tina, Uruguay, Paraguay and Jamaica
This is the group to which you can call group of death as it have the vice World Cup cham­pi­ons, most suc­cess­ful team of Copa Amer­ica in the form of Uruguay. Argen­tina have prob­ably the best squad in this tour­na­ment hav­ing Lionel Messi, Ser­gio Aguero, Angel Di Maria, Javi­er Mascher­ano. Argen­tin­a's first match is against Paraguay.
Uruguay vs Argen­tina will be the most awaited game of this group as it will be clash of Bar­ca's team-mates Lionel Messi vs Luis Suarez [if FIFA removes his ban]. The defend­ing cham­pi­ons Uruguay could make it to the quarter final round if they wins min­im­um of two games out of three. They have won Copa Amer­ica fif­teen times, more than any oth­er foot­ball team.
Two times cham­pi­ons Paraguay enjoyed the golden gen­er­a­tion of foot­ball from 1990 to 2006. Paraguay and Jamaica stand no chance what­so­ever while Uruguay will be play­ing play­ing without Luis Suarez. In short Argen­tina and Uruguay are the favor­ites to qual­i­fy for the quarter final.
Pre­dic­tions: Argen­tina and Uruguay to next round
Copa America 2015 Group C Preview and Prediction
Teams: Brazil, Colom­bia, Peru, Venezuela
It's not just Brazil vs Colom­bia, it will be rivalry of Bar­ca's Ney­mar vs Colom­bi­a's James Rodrig­uez. On 17th June, Brazil will face Colom­bia in group stage round at Esta­dio Monu­ment­al Dav­id Arel­lano, San­ti­ago. Last time, Brazil elim­in­ated Colom­bia in quarter final round of 2014 FIFA World Cup. So Colom­bia will be look­ing to take revenge of their last world cup defeat.
One time Copa Amer­ica cham­pi­ons, Colom­bia are anoth­er giants of this com­pet­i­tion with hav­ing one of the bal­anced squads. Last World Cup golden boot win­ner will be the play­er to watch. Colom­bia is a team at its peak that deserved bet­ter in Brazil if not for its con­tro­ver­sial loss in quarter final of 2014WC.
Pre­dic­tions: Brazil and Colom­bia to next round.