Best Photos, Images From Copa America 2015 Final Match celebration of Chile vs Argentina
The host nation Chile have ended the very long wait of Copa Amer­ica title after win­ning the first ever trophy at Esta­dio Nacion­al. After the last goal from Alex­is Sanc­hez, the jam packed crowd of sta­di­um star­ted cel­eb­rat­ing their first ever trophy. Misses from Gonzalo Higuain and Ever Banega cos­ted Argen­tina anoth­er final trophy loss as it was their second title defeat in one year. For Argen­tina, the drought goes to 22 years since their last trophy and an increas­ing sense that this gif­ted gen­er­a­tion of play­ers will remain unful­filled. Get ready to taste some of the best images from the final match of Copa Amer­ica 2015.
Copa America 2015 Final Match Photos
It was a close encounter between the two strong teams of South Amer­ica. There was great intens­ity dur­ing the two final hours, but both teams were unable to break the dead­lock of the match. Pen­al­ties were taken into account in order to decide the cham­pi­ons of Copa Amer­ica 2015. Let's leave all these things behind and take a look on pho­tos of Chile vs Argen­tina 2015 Copa Amer­ica final match.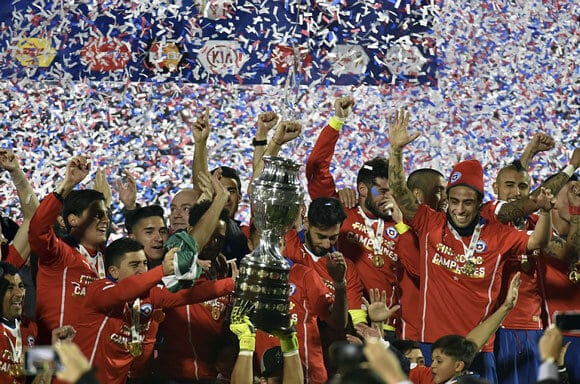 Related: Chile vs Argen­tina Copa Amer­ica 2015 Final Pen­al­ties
Goal­keep­er Clau­dio Bravo won man of the match trophy where­as, his team mate Eduardo Var­gas was awar­ded with man of the tour­na­ment trophy. Peru won fair play award.
Go through these best images of Argen­tina vs Chile Copa Amer­ica 2015 final match and don't for­get to share these pic with oth­ers.