Best Photos, Images From Copa America 2015 Final Match celebration of Chile vs Argentina
The host nation Chile have ended the very long wait of Copa America title after winning the first ever trophy at Estadio Nacional. After the last goal from Alexis Sanchez, the jam packed crowd of stadium started celebrating their first ever trophy. Misses from Gonzalo Higuain and Ever Banega costed Argentina another final trophy loss as it was their second title defeat in one year. For Argentina, the drought goes to 22 years since their last trophy and an increasing sense that this gifted generation of players will remain unfulfilled. Get ready to taste some of the best images from the final match of Copa America 2015.
Copa America 2015 Final Match Photos
It was a close encounter between the two strong teams of South America. There was great intensity during the two final hours, but both teams were unable to break the deadlock of the match. Penalties were taken into account in order to decide the champions of Copa America 2015. Let's leave all these things behind and take a look on photos of Chile vs Argentina 2015 Copa America final match.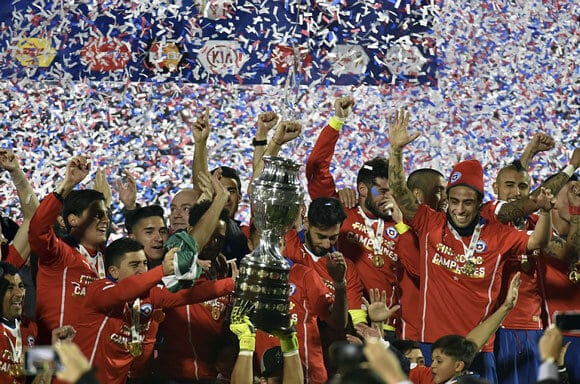 Related: Chile vs Argentina Copa America 2015 Final Penalties
Goalkeeper Claudio Bravo won man of the match trophy whereas, his team mate Eduardo Vargas was awarded with man of the tournament trophy. Peru won fair play award.
Go through these best images of Argentina vs Chile Copa America 2015 final match and don't forget to share these pic with others.