Copa America 2015 Ball Nike Cachana Revealed: To make this football campaign the best of it, the official partner Nike have unveiled Official Match Ball [OMB]. This ball will be used throughout the tournament from 11th June to 4th July 2015. On 16 November 2014, the official match ball for Copa America 2015 was unveiled at the Estadio Nacional by Juventus player Arturo Vidal. Once again, Nike makes the official Copa America 2015 Chile soccer ball, namely Nike Cachana. The word Cachana means to the unique feature of the game in Chile, where fast movements are used to get past opponents. Nike Cachana will be used throughout the tournament. Have a look on the pictures, complete features and material used on Nike Cachana.
Copa America 2015 Ball Nike Cachana
The Nike have used the most advanced technology on the Copa America 2015 Official match ball. The new Nike Cachana 2015 soccer ball is based on the Nike Ordem II Ball, which is also used in Premier League, La Liga, Serie A and Copa Libertadores. The Nike Ordem is the most advanced technology used in the Nike Soccer Ball which includes unprecedented flight control with new aerodynamic Nike Aeroe Trac grooves.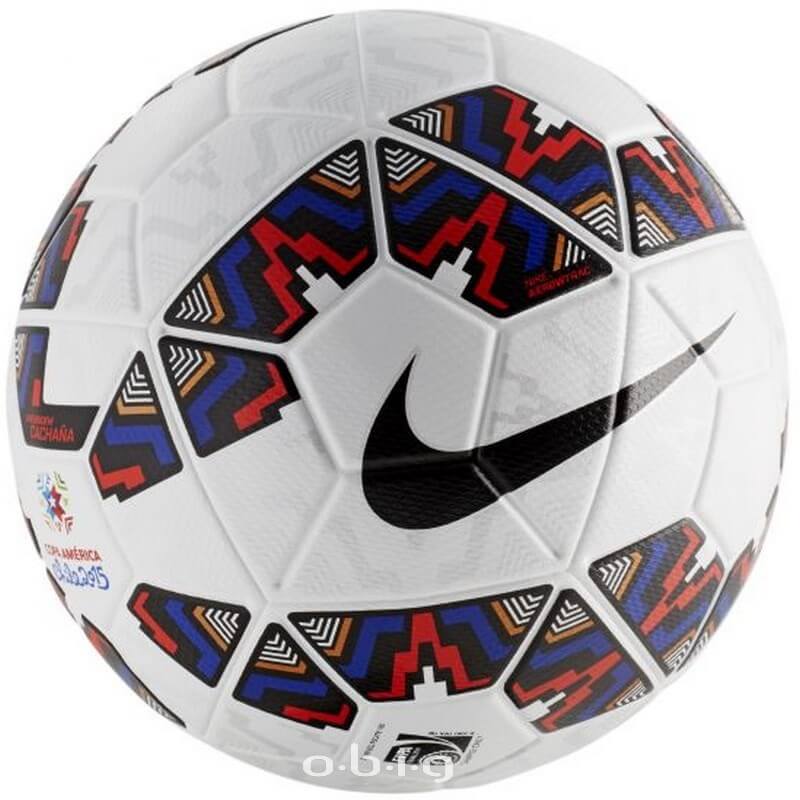 Nike Cachana
is mainly designed with white as main appearance featured with blue and red applications, representing host national Chile. There has a black Swoosh and the official Copa America 2015 logo at the center of
Nike Cachana
.
The colors of the Chilean flag make a statement on the design of the ball. Nike designed a special graphic pattern with colors white, red, blue and brown, inspired by the
Culture of Chile
. The red color represents the people, the blue symbolize the Chilean sky and the white represents Andes strongly defines the geography of this country. Interesting:
Argentina Copa America 2015 Jersey
There is a also subtle hint of copper woven into the design which defines the nation's economic engine. Santiago Street art inspired the use of black and white and the overall pattern of the ball. The
Copa America 2015
competition will be held in Chile from June 11 to July 4, 2015. Do you like the
soccer ball of CA2015
?