Adidas has released the new official Colombia kits for Copa America 2015 tournament. The new jerseys are designed for the 2015 Copa America that is to be held in Chile. The all new Adidas Colombia 2015 Home Jersey features a classical kit design while the CA2015 Away kit boasts a bold front design. It is expected that the new Adidas Colombia Jerseys will be used until the year 2017. The national players will be seen in these new kits during the main football competition of South America. So take a close look on these new impressive kits.
Colombia 2015 Copa America 2015 Kits | Home Jersey
Minor changes have been made on new home t‑shirt of the national football team. The Colombia World Cup 2014 Home Kit featured a dynamic lines design, but this time Adidas Colombia 2015 Copa America Home kit returns to a classical kit design which is inspired by cycling theme and are part of Adidas's "There will be haters" series.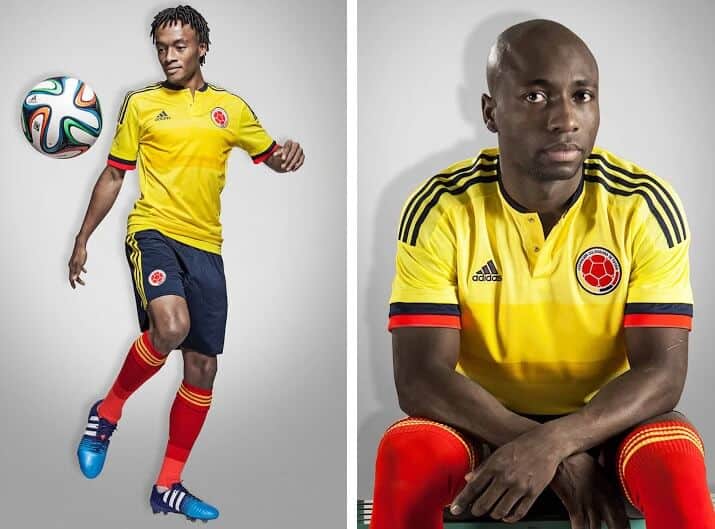 The new Adidas 2015 Home Jersey of Colombia is bright yellow and has a classical collar with two buttons. There is a subtle print with different tones of yellow on the front of the Colombia 2015 Home Jersey which showing the design of the Colombian Flag while the text "UNIDOS POR UN PAIS" which is also printed in the Colombian flag color on the upper back of the jersey. The yellow / navy / red sleeve cuffs create the Flag of Colombia, while the bottom of the shirt features a contrasting navy stripe. Once again Adidas re-introduced the classical Colombian look with navy shorts and red socks for the Colombia 2015 Home Kit.
Colombia 2015 Copa America 2015 Away Jersey
The new Adidas Colombia 2015 Copa America away kit features a modern kit design with a navy color. The navy v‑collar shirt has a bold interpretation of the Colombian Flag on the chest area which is inspired by cycling shirts. Argentina 2015 kits have been also released. Adidas logo and 3 stripes on the sleeves are in yellow color, while the sleeve cuffs and the bottom of the shirt are red. Adidas created a special Colombian Football Federation crest with the main color yellow. At the front of away t‑shirt, there is a thick single yellow colored stripe at the center. Below this, a single thin red stripe is also there combining the match of jersey. So these are the new kits of Colombia which are part of Copa America 2015 kits. You can purchase these new jerseys from the selected stores. So how much you like these new kits?