Chelsea 2015–16 Kits Released | Home, Away Jersey: Adidas has unveiled the all new home kits of Chelsea football club for season 2015–16. There is a big change in the new jersey as "Yokohama Tyres" has replaced the former sponsor "Samsung". This means the the new Chelsea 2015–16 kits are featured with "Yokohama Tyres". On 16th of July 2015, the new kits of Chelsea were unveiled. It is most likely that the blues will wear this new 15–16 home jersey during the international champions cup friendly competition before the start of new season of premier league. So what are plus and minus points of this new kit? Let's have a discussion on it.
Chelsea New 2015–16 Home Kits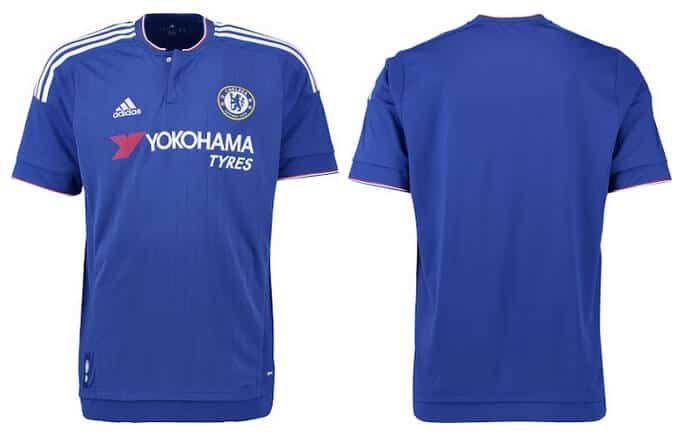 Jersey: As natural, the blues will be seen in blue jersey in the new season, manufactured by Adidas. There are some white colored applications on it that makes it quite interesting. The classical design of the jersey featured with a unique collar at the top. As we have said earlier, Yokohama Tyres replaced Samsung as sponsor of Chelsea whose logo can be seen at the center of Chelsea 2015–16 home jersey. There are some vertical grey colored stripes also which are adding different appearance and looks impressive.
Collars are in blue along with white and red linings. Below collars, there are two buttons that we have seen in Real Madrid's 2014–15 jersey. Trademark logo of Adidas is available at the right chest, whereas club's crest is printed on the right side of the Chelsea 15–16 home jersey. The ends of sleeves are in same layout as provided on collar i.e. white and red linings at the end of sleeves.
Shorts: The shorts of Chelsea 2015–16 kits are mainly in blue with white applications on it. There are simple in design yet looking great as compared to Chelsea's previous kits. That's all about home jersey and shorts. Not take a close look on away kits of the British football club.
Chelsea 2015–16 Away Kits
Jersey: It would be not incorrect to say that the all new away jersey of Chelsea football club is the reverse of Chelsea's home kits. These are mainly in white with some blue and red appearances. The mainly white away jersey has blue colored elements like club's badge, Adidas trademark logo. However there is a little bit change at the end of arms. The three stripes of blue, white and red makes it quite different from the others. Also, there is a single blue colored stripe at the bottom of Chelsea's 2015–16 away jersey.
Shorts: If you are bored with wearing same colored shorts, then you will probably like the new shorts of CFC. The new away shorts of Chelsea are in same color combination as its jersey is. It means you are going to wear white shorts which are marked with blue applications. Quite impressive, isn't it?
Chelsea New 2015–16 Third Kit
Well the third kit is not launched officially but we can show you a leaked image of Chelsea's 2015–16 third jersey. It is black with contrasting white logos. On the front of the new Adidas Chelsea 2015–16 third kit is a special all over print creating a unique design. Adidas uses a monochromatic white / black Chelsea crest and a simple black crew neck collar. Given below is the leaked image of Chelsea's 2015–16 third jersey. Take a look.
These are the new kits of Chelsea for the new season. Tell us how much you like these new kits via comment box below.