World's leading sports brand accessories Adidas has launched new home kit of Chelsea football club for season 2014–15. Right now, the new home kit of Chelsea is released and away kit will be launched in summer 2014. These kits will be used from next season onwards & the players will wear this uniform from next season. Adidas has made few changes in current kit of British football club. Recently, the German based brand extended its contract with this kit Chelsea till 2023. Have a look on new Home & Away kit of Chelsea.
New Home kit of Chelsea for 2014–15 season
The all new home kit of Blue Lions is designed with blue as main color with some white appearances. These new kits are sponsored by South Korean giant Samsung. There are some words about the third kit of this club, but first check out new home kit of the Blues. Jersey: Few changes are there on new home jersey as compared to current T‑shirt. This jersey is looking alike that of Spain national team which is also designed by Adidas. At front of t‑shirt, there is logo of club on left chest & logo of Adidas on right chest in white appearance. 3 Stripes for which Adidas is known for are designed on shoulders starting from neck to the bottom of arms. These are also constructed in white linings. There is only one change & i.e. its horizontal grey colored stripes. These horizontal stripes are marked in increasing order of thickness starting from top to bottom. At the back of jersey, there is a single curved stripes which starts from one side & ends to another side. Below this stripe, player jersey number & name is there in white color.
Shorts & Socks: Shorts & socks are also manufactured with combination of blue & white as in last uniform. Three stripes starting from waist to bottom are available in white appearance. The socks are mainly designed in white as major color with blue round linings. On socks blue lion watermark of Chelsea is also designed.
Chelsea New 2014–15 Away Kit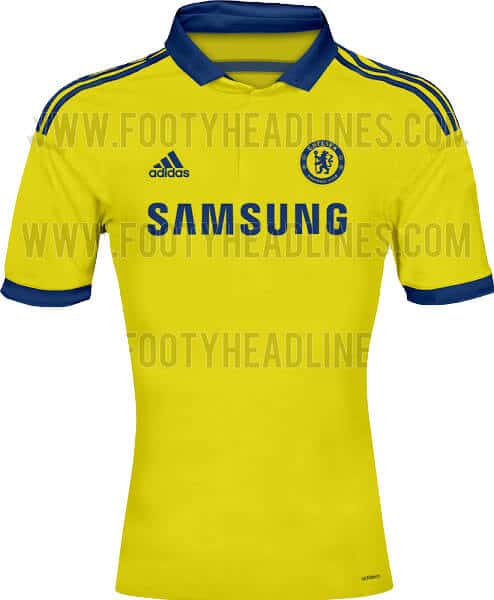 The
new away kit of Chelsea
is quite impressive & simple in design. It is made with combination of yellow & blue color. All layouts are at same spot on away t‑shirt. But the round ends of arms are provided with blue appearance which are looking attractive. The badge of the new Chelsea away kit is adjusted to the kit colors and yellow / blue. Away kit of blue lions will be launched in summer just before the start of new season.
New Goalkeeper Kit of Chelsea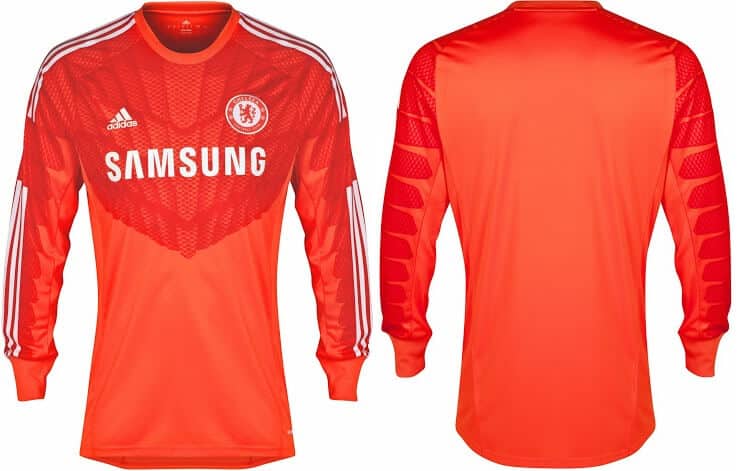 Well, the new goalkeeper kit is looking unique which is difficult to find similar kind. For its manufacturing Adidas has used red as main color with white applications on it. The new goal keeper kit features the unusual orange and red color which is designed for Petr Cech. This new GK kit is also now available right now as it will it will be launched later.