Barcelona collected 3 more points in its last match against Celtic at Celtic park. Get match summary of UEFAChampions league of last night right over here. Is was a great tackle by home team & first half was goalless. But in the end, the best won the match by 1–0. Total attendance was calculated as 60,000.
Cesc Fabregas just scored the opening as well as the winning goal for his team just before he sent off. Celtic FC also got some easy chances but they did not convert it into goal. Now Barca is at top position in Group H followed by Milan. The winning team will now play its next match of Champions league against Italic Club AC Milan.
CELTIC VS BARCELONA MATCH STATISTICS
The Hoops
Stats
Blaugrana

0

Goals scored

1

5

Total attempts

14

3

Shots on target

8

18

Fouls

10

2

Corner kicks

6

2

Offsides

5

18%

Time possession

82%

3

Yellow cards

3

1

Red cards

0

4

Saves

2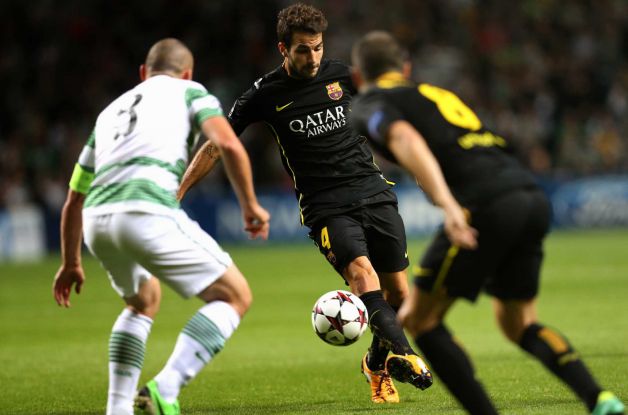 Match Summary
The manager Neil Lennon sprung a surprise when he started Samaras as lone forward with Stokes just off him. It was 5th minutes when these 2 players create 1st opening attempt but the best of Blaugrana's GK blocked that attempt & then neither team scored the opening.
It was a shocking reaction for home side when Stephane Lannoy (referee) sent Scott Brown out of ground. He kicked at the back of Brizilian forward Neymar. It was expected that he will show yellow but the mistake deserved Red one.
Barca kept it hold on match but the Hoops lost a great chance when James Forrest made a sizzling volley but the save was also remarkable by Goalie Victor Valdes. Fraser Forster blocked two back to back attempts of Neymar which could lead to win of big margin.
Without Lionel Messi, Gerardo Martino's side struggled a lot for win against Niel's squad. 1st hald was proved better for home team but in 2nd they were not able to manage it properly. In 17th min. Neymar attempt a strike for 25 yards but it was not into the net. The Bhoys are now at 3rd spot in Group H & they will now face Ajax Amsterdam in its upcoming match of this competition.
Other Match results 1‑Oct-2013
| | | |
| --- | --- | --- |
| Home team | Final Score | Away team |
| Zenit | 0–0 | Austria Wien |
| FC Basel | 0–1 | Schalke |
| Borussia Dortmund | 3–0 | Marseille |
| Ajax Amsterdam | 1–1 | AC Milan |
| Steaua Bucuresti | 0–4 | Chelsea |
| Arsenal | 2–0 | Napoli |
| FC Porto | 1–2 | Atletico Madrid |