The craze of 2014 FIFA World Cup is spreading at a very fast rate. Recently launched FIFA World Cup ball Brazuca is now available for online purchase at an affordable cost. Once again, the official partner Adidas has designed an impressive and technical ball which is attracting lots of football fans. Given below is the procedure of Brazuca Purchase in India.
Buy Brazuca Football Online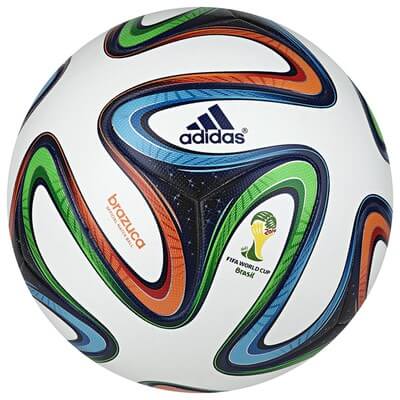 You can buy this Brazuca football from one of the leading online shopping giant Amazon.com The current price of this ball at Amazon is $138.50 [Rs.8,000 approx]. This is the price of maximum sized Brazuca. Just follow the link and place your order for online purchase. Buy Brazuca Ball Online in India: Buy Now Current Price: $138.50 Ball Size: 5
Details of Brazuca
Its name was disclosed on 2nd of September 2012. Based on votes of public, the governing body FIFA given this name to official ball. Bossa Nova, Carnavalesca were other options of ball name, but Brazuca name received 77.8% of votes in Brazil & FIFA selected this name for its new ball.
The official ball is designed with color combination of orange, green, blue, black and white which is used as background of ball. This is most colorful ball designed for world cup since first world cup of 1930.

Logo of Adidas is designed in blue color on white background. Also there is trademark of FIFA World Cup Brazil in green and yellow appearance.

Thermally bonded seamless surface for more predictable trajectory, better touch and minimal water uptake.

Name of ball "brazuca" is also there in orange appearance is written on same background.

The all new Adidas Brazuca is designed with 100% polyurethane & is in light weight.

Its bladder is made up of latex and provides the desired rebound when it hits the bottom.

Top match ball made from high end materials in the cover, backing and bladder to ensure perfect on-field performance.
So, order your world cup ball now and enjoy this biggest campaign with Brazuca.