Purchase Official Final Match Ball of UEFA Champions League 2014–15 from Amazon
Designed by Adidas, the official final match ball of Europe's top football competition is now available for online purchase. This new ball will be used in the final of UCL 2014–15. It is inspired by the German capital Berlin which is selected to host the final of the season on 6th June 2015 at Olympiastadion. The current price of Adidas UEFA Champions League 2014–15 finale Berlin replica is Rs.1,599 [as on 2 Apr 2015]. Given below is the direct link to purchase this ball.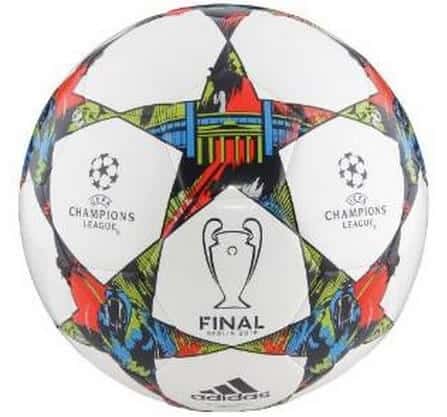 Price [Indian Rupee]: Rs.1,599
Buy 2014–15 champions league ball online: click here
Cash on delivery option is also available.
Note: We are not selling this ball, it is just to inform you how you can buy this ball.
This ball is featured with lots of German traditions, Berlin gate and bears. The finale ball of Berlin is also engraved with lots of Berlin symbols and colorful spectrum also. On its upper phase, the Brandenburg Gate is designed below which is the trophy of competition is featured in black appearance. This gate is probably the best landmark of Germany that's why is it designed on this ball.
Blue-green aggressive bears are also there. These bears are known as the traditional symbol of city. An iconic star pattern have been used just like on previous Adidas Balls. Adidas trademark logo is in black appearance above which "OFFICIAL MATCHBALL" is written in black.
On 23 May 2013, UEFA executive committee announced that Olympiastadion will host the final. For the first time in history, Berlin will host the final of this competition. Karl Heinz Riedle is the final match ambassador.
It is consists of a number of factors. Stitched seams machine firmly connect the panels, so that even violent kicking not effect the appearance of the ball. Nylon is also provided for the maximum tightness. Its plastic is more durable guarantee of investment for years. There is no effect of water, grass, mud or any dirt on it. So you don't worry about its safety.