Going into the upcoming season, the ultimate German club football prize is on the line again: the Bundesliga title. We are taking a look at early favorites and determine if anyone can danger Bayern Munich at the top of the table.
Check out all of your Bundesliga statistics in graphic form over here.
Last season ended in dramatic fashion. Not in the Bundesliga, that was decided quite early. No, it was the German cup final, which went all the way to a penalty shootout between the two current heavyweights of the country, Bayern Munich and Borussia Dortmund, with the better end for Pep Guardiola's former team.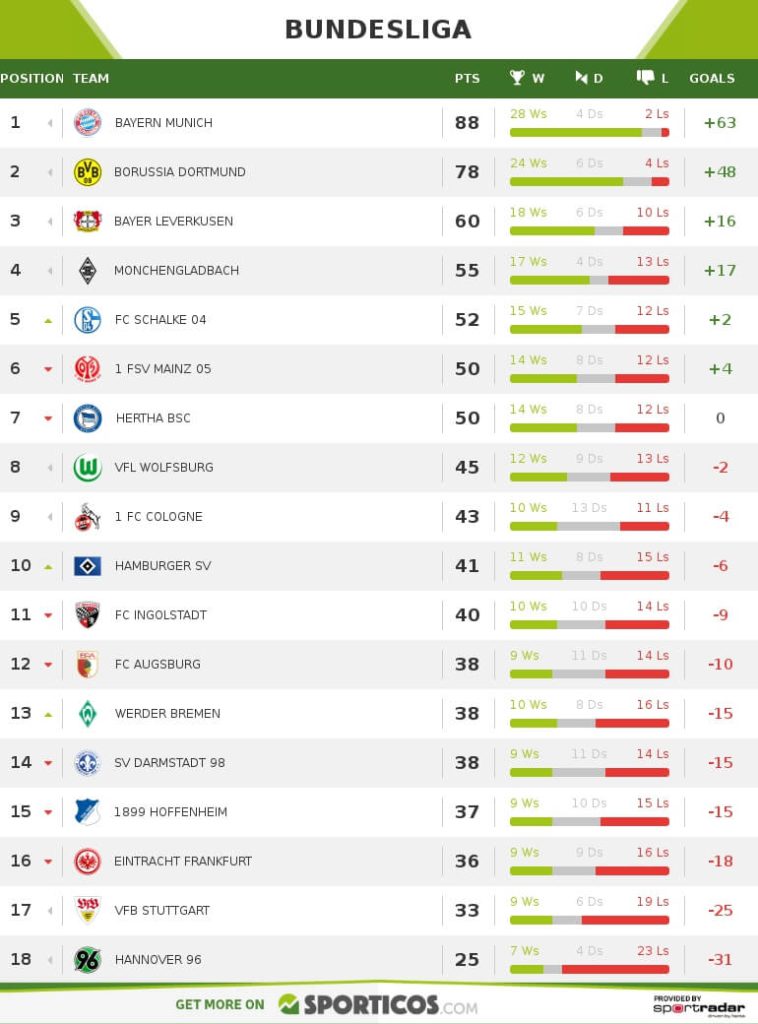 How it finished last season in the Bundesliga.
If the close final was to be any indication, the early summer changed a lot of the settings between the clubs again. While Bayern strengthened their squad with the purchase of Dortmund captain Mats Hummels and the talented, eventual Euro winner Renato Sanches, the runner-up lost quite a bit of their identity. Not only did Hummels leave the black and yellow for his childhood red and white, he was joined by Henrikh Mkhitaryan going to Manchester United and midfield ace Ilkay Gündogan to rival club City.
Dortmund was left with many young players joining the team, from Raphael Guerreiro to Ousmane Dembélé to Marc Bartra from Barcelona. However, the team will need time to find their groove again and for the many new players to get acclimatized with their new environment. While BVB will surely challenge for a Champions League spot yet again, a weak start could knock Thomas Tuchel's men out of title contention early on.
Bayern themselves went from Pep Guardiola to an equally good coach in Carlo Ancelotti and did not lose any key players. They will put all their efforts into reaching a record fifth straight Bundesliga title and it is hard to see them have a serious challenger. Not only do they live in the now, but are building for a bright future with players such as Joshua Kimmich, Renato Sanches or Kingsley Coman. All of them stood out during the Euro 2016.
Third German team in the Champions League is Bayer Leverkusen. Traditionally, they always play well and are somewhat successful, but do not win anything. So far, Bayer managed to keep their squad together quite nicely, even added striker Kevin Volland, which lets them hope for decent results again in 2016/17. Assuming Leverkusen have a good start to the season, Chicharito & Co. will be able to challenge Dortmund for that second spot in the table, maybe even keep the title race open for a longer period of time? Their finish to 2015/16 was impressive, as illustrated on the graphic below.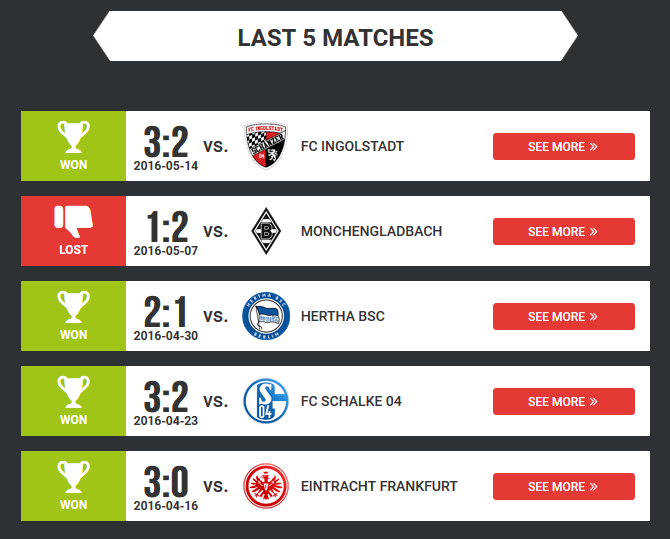 In the field behind those three, teams such as Borussia Mönchengladbach, Schalke 04 or VfL Wolfsburg hope to finish higher than they did the past year. All of them want a piece of Champions League action in their cities again. While Mönchengladbach are set for success and Schalke signed Augsburg coach Markus Weinzierl to improve their own chances, Wolfsburg are in the middle of a lot of change.
Following the VW scandal, the money situation is uncertain, making large transfers highly unlikely. After losing out on Romelu Lukaku in recent transfer windows, they did the same this summer with Basel's Breel Embolo who chose Schalke instead. At least two talented midfielders joined Wolfsburg in Daniel Didavi and Yannick Gerhardt. Interesting player: Nigeria's 18 year old super striker Victor Osimhen. On the other hand, defensive boss Naldo left for Schalke as well, while Luiz Gustavo is seemingly willing to get out too.
A lot is on the line in the upcoming Bundesliga season and the usual top three are expected on top again. Can anyone break into their dominance? We will find out starting in late August, when the league starts up again with the following matches.