If you are a football fan, then you might be well aware of Francis legend Zinedine Zidane. The player ruled on millions of football hearts during his footballing career with his technique, skills and legendary visions. Lots of footballers have praised him and some of them are still doing so. Earlier we have shared the quotes by Zinedine Zidane with you. This time, we are sharing the best quotes on Zinedine Zidane siad by football legends. So here we go.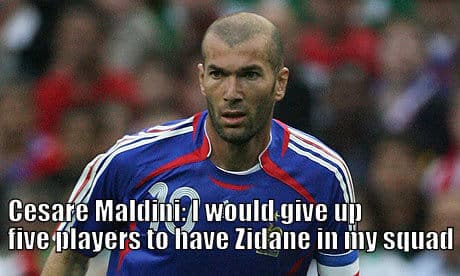 Cesare Maldini: I would give up five players to have Zidane in my squad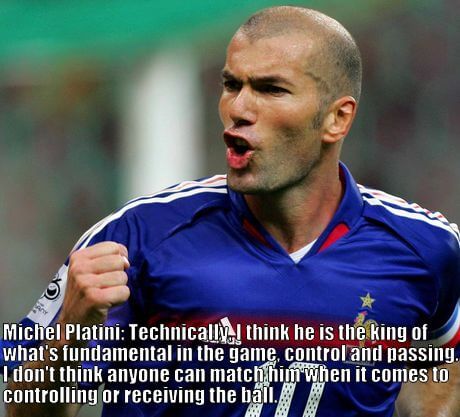 Michel Platini: Technically, I think he is the king of what's fundamental in the game, control and passing. I don't think anyone can match him when it comes to controlling or receiving the ball.
Xabi Alonso: What he could do with a football is a dream for most of us.
Thierry Henry: In France, everybody realized that God exists, and that he is back in the French International team. God is back, there is little left to say.
Zlatan Ibrahimovic: Zidane is from another player. When Zidane stepped onto the pitch, the 10 other guys just got suddenly better. It is that simple.
Marco Materazzi: Zidane has won that award because of what he has done on the pitch. He was the best… I have always admired Zidane… In fact, I have one of his shirts in my closet. We exchanged our shirts after a Juventus vs Perugia game.
Franz Beckenbauer: Zidane is unique. The ball flows with him. He is more like a dancer that a football player.
Carlos Ghosn: If Zizou kept his temper, he would not be the genius that he is.
Pele: Zidane is the master. Over the past 10 years, there's been no one like him, he has been the best player in the world.
Marcello Lippi: Zidane is probably the best player there has been in the past 20 years. France have recovered the best Zidane and they have progressively grown throughout this tournament.
Rivaldo: I really enjoy watching Zinedine Zidane. His elegance of movement on the pitch and his skill are uncanny. Apart from being an impressive player, he is also very humble and very likeable as a person. A great man.
Kevin Keegan: You look at Zidane and think I've never seen a player quite like that. Diego Maradona was a great player. Johan Cruyff was a great player. They were different — but with similarities. What sets Zidane apart is the way he manipulates a football, buying himself space that isn't there. Add his vision and it makes him very special.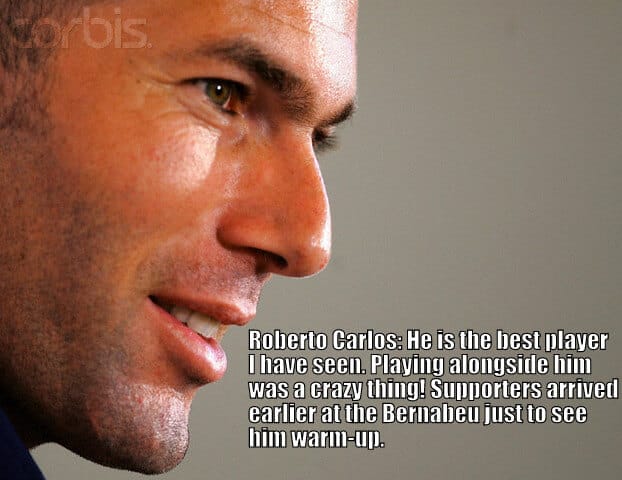 Roberto Carlos: He is the best player I have seen. Playing alongside him was a crazy thing! Supporters arrived earlier at the Bernabeu just to see him warm-up.
Edgar Davids: He thinks in one second and does it the next. He is special player, one who is original and exceptional. He creates space where there is none. Only the very best players can do that. No matter where he gets the ball or how it comes to him, Zidane can get out of trouble. His imagination and his technique are amazing.