The champions of Bundesliga Bayern Munich added another title of the season defeating Borussia Dortmund in final of DFB Pokal competition. For FC Bayern, Arjen Robben & Thomas Muller scored one goal each in 107th & 120th minute. First two halves of the final were remain goalless. But in first half of extra time, the Netherlands striker broke the deadlock and given lead to FCB. Thereafter in second half of extra time, the winner of 2010 FIFA World Cup golden boot winner netted second. Given below are the result statistics of Bayern vs Dortmund DFB Pokal 2014 final match.
Bayern Munich vs Borussia Dortmund DFB Pokal 2014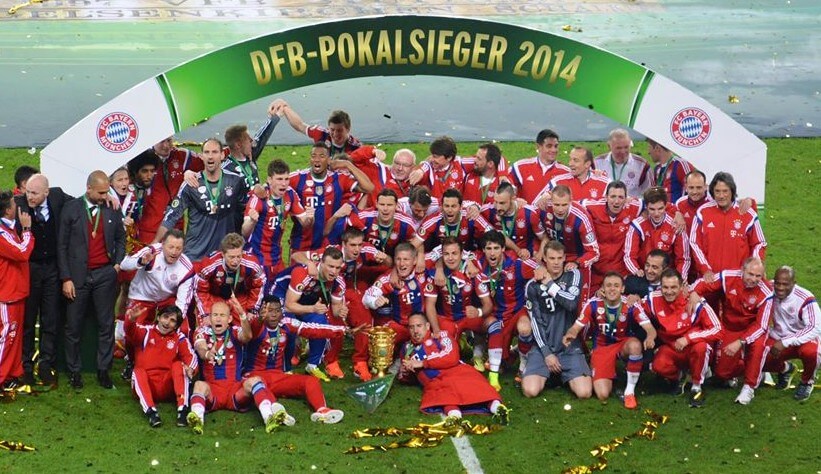 Both teams played decent football in first 20 minute, but the German captain Philipp Lahm was suffering from an injury that looks like it might threaten his world cup competition. Lahm continued playing but Pep Guardiola made a substitution to replace him with Franck Ribery.
Dortmund could have an advantage in 64th minute when Matt Hummels head the ball, got deflection from Lewandowski. Once again the Brazilian defender Dante cleared the ball off the line. It appeared that ball had crossed line but after taking replays all was cleared. That was the only chance for Dortmund to win this title as 2 goals came after 90 minute.
No goals were scored by any team in first 2 halves & extra time of 15 minutes was given. In 107th minute, Arjen Robben scored the opening & then Thomas Muller minimized hopes of BVB to win the title in 120th scoring second goal.
Bayern Munich: Manuel Neuer, Dante, Rafinha, Dante, Boateng, Philipp Lahm, Hojberg, Toni, Kroos, Mario Gotze, Arjen Robben, Thomas Muller.
Borussia Dortmund: Weidenfeller, Schmelzer, Sokratis, Hummels, Piszczek, Sahin, Jojic, Marco Reus, Mkhitaryan, Grobkreutz, Robert Lewandowski.
Bayern vs Dortmund 2–0 Goals Video Highlights
Watch video highlights of final match between these 2 teams below.
Saturday: Mother of Days
On last Saturday, 3 big games were played in 3 different nation. In Germany, Bayern Munich lifted the trophy of DFB Pokal cup, whereas in Spain, Atletico Madrid registered their 10th title of La Liga in history. Also, Arsenal broke 9 year trophy drought by winning FA Cup competition defeating Hull City in close encounter of 3–2 at Wembley stadium in London, England.
Almost all football competition across the globe are ended the biggest clash of champions league is yet to be played. Madrid is not only the capital of Spain, the city is currently called as the capital of European football. 2 Madrid teams Real Madrid & Atletico Madrid will face each other in final of UEFA Champions league in Lisbon on 24th May.