The all new kits of Bayer Leverkusen for 2015–16 season have been launched by Adidas. The sports kit manufacturer has officially unveiled the Bayer Leverkusen Home, Away & Third Kit 2015–16 season. Home jersey of the club was already revealed on 12th may boasts a striking hoops design with iconic club colors red and black. Kits are being sponsored by LG. Home kits are designed in black and red appearance, away kits are in black and white and the third kit boasts with totally red in color. Check out more information, specification and design of Bayer Leverkusen 2015–16 Kits.
Bayer Leverkusen 2015–16 Home Kit
The new Adidas Bayer 04 Leverkusen 2015–16 Home kit is designed with iconic red and black stripes. They worn the same designed kit during the most successful era when they reached the Champions League final against Real Madrid in 2002. Don't miss Leaked Bayern Munich 2015–16 away jersey.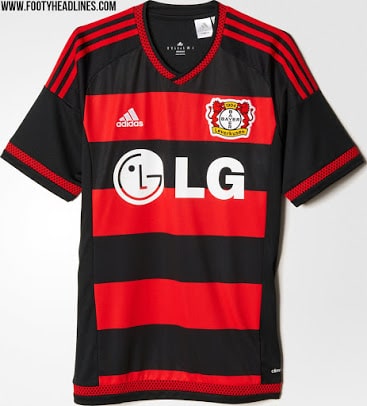 The combination of black and red is looking impressive. Home jersey features a horizontal stripes design on the front with totally solid black color in the back of shirt. To create modern look, Adidas uses a modern v‑collar with the trademark polka dots design which is also used on the bottom of the shirt and the sleeve cuffs. On the upper back below the collar of the jersey, the club's nickname werkself is written.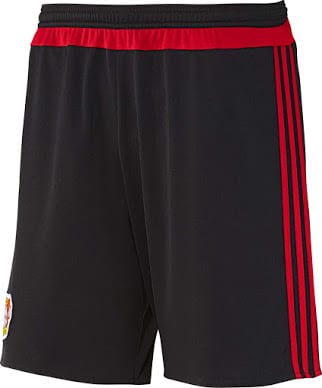 Bayer Leverkusen 2015–2016 home kit completes with black shorts and socks with red accents. The B04 are written on the front of the socks while the Adidas logo is on the back side.
Bayer Leverkusen 2015–16 Away Kit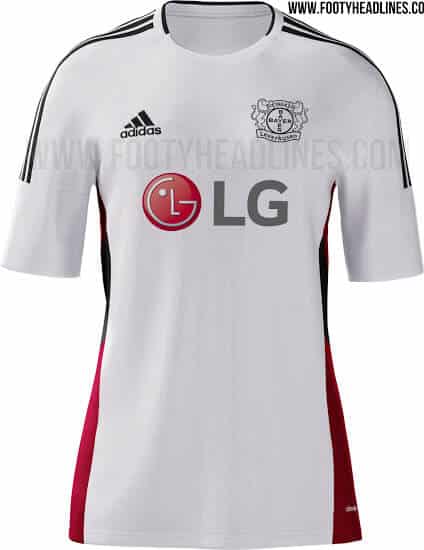 Bayer Leverkusen 2015–16 Away kit comes with black and red accents in the form of insets on both sides. A simple crew neck collar is used for Leverkusen away kit features black 3 stripes on both sleeves. The club sponsor LG logo at the front in original color is printed. White shorts and socks with black details completes the new Leverkusen Away 2015–16 kit. The Bayer Leverkusen 2015–2016 away kit was debuted a pre-season friendly on 5th July 2015.
Bayer Leverkusen 2015–16 Third Kit
The Bayer Leverkusen 2015–16 Third kit features the two different shades of red color creating a subtle hoops design which is carried over from the last season. The shoulder of the jersey features the Adidas traditional three stripes while the LG logo is printed on the front of the kit.