Barcelona Vs Valencia Highlights Video, Result, All Goals: Barcelona miserable form is continued as they lost third consecutive league game for the first time since 2003. Barca were beaten 2–1 at home by Valencia which put Barcelona La Liga title hope in danger after knocked out from the Champions League run midweek. This loss is Barcelona consecutive four losses in last five matches. Watch Barcelona Vs Valencia Highlights Video.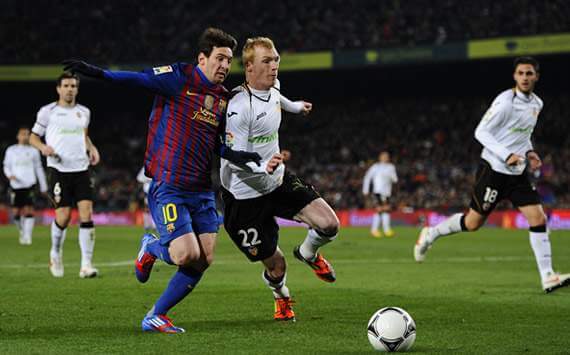 Barcelona Vs Valencia All Goals Highlights Video
An own goal by Ivan Rakitic gave Valencia a shock lead on 27 minutes and Santi Mina doubled their advantage just before the break. Lionel Messi scored his 500th career goal for club but unable to inspire a comeback. Take a look on the Barcelona vs Valencia All Goals Highlights Video: https://youtu.be/VSnTUcAg1vQ
Barcelona Vs Valencia Match Result
The first goal was unfortunately came from the Rakitic boot. Andre Gomes ushered the underlapping left-back Siqueira into the box with an excellent angled pass but it deflected off the boot of the sliding Rakitic and it went to the goal. The Barcelona were looking to fill the deficit but in the stoppage time Parejo played an angled pass between two defender to find Santi Mina who didn't make any mistake and put ball into the far corner. After the halftime, Barcelona were in hunger to score goal and eventually it came from Lionel Messi boot who scored his 500th goal for club. Parejo, just outside the area, played an angled pass between two defenders to find Santi Mina, who opened his body and sidefooted it calmly across Bravo and into the far corner. Barca are still on the top of the Primera Division with 76 points equal to Atletico Madrid but just ahead due to their superior head-to-head record. Just three weeks ago, they led Atletico side at the top by nine points. Last night result means Barca have now picked up just one point from their last four fixtures at La Liga. It was not enough to that, they were also knocked out of the Champions League quarterfinal second leg by Atletico Madrid.