Match: The return leg of this season's El Clasico comes to an end with a 2–1 victory for the Catalans as they have taken revenge of their 1–3 away defeat. Goals from Mathieu and Suarez registered another victory for Barca on Sunday at the Camp Nou. Here we are providing some gif pictures of all goals. Have a look.
Barcelona vs Real Madrid Goals Gif Pictures
As expected, the stadium was full of audience with brilliant home crowd support. Best players of Europe clashed against each other in the second of La Liga 2014–15. It was a great competitive game which was witnessed by more then 98,000 spectators at the Camp Nou.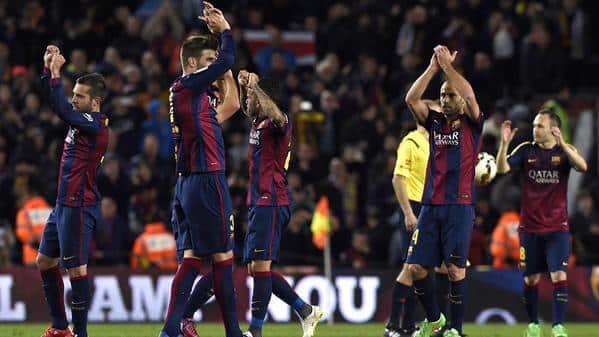 Jeremy Mathieu First Goal [19 min]
Barca started the game and made couple of few chances in first half. How many of you predicted Jeremy Mathieu as the goal scorer of tonight's game. The Barcelona defender scored after curling free kick from Lionel Messi. He clipped a delightful ball into the area from the left and Mathieu got in front of Sergio Ramos and powered a low header past Casillas, who had no chance of keeping that out. It was the opening goal of the game. Have a look on it below.
Mathieu's goal for Barcelona #ElClasico https://t.co/VQOKaF50rO

— Soccer Tweets™ (@SoccerTweetsHQ) March 22, 2015
Cristiano Ronaldo Second Goal [31 min]
After conceding the first goal, the visitors were looking aggressive. They made some great chances of scoring, but failed to convert them into goals. Suddenly, the trio of Luka Modric, Karim Benzema and Cristiano Ronaldo did what the European Champions looking for. The Croatian midfielder Luka Modric provided a brilliant pass to Karim Benzema. He provided the first assist to Cristiano Ronaldo via back heel. Ronaldo, who speeds on the ball, reaching it before Alves and then almost toe-punting a wonderful finish past with Bravo with his right foot. First of this El Clasico ended with 1–1 draw.
Gol de #CR7 #halamadrid https://t.co/ejX28TmnMv

— Felix Castillo (@Felixpuma7) March 22, 2015
Luis Suarez Third Goal [56 min]
Third and final goal of Barcelona vs Real Madrid was scored by the Uruguayan Luis Suarez. He failed to score in his first El Clasico, but the player netted in return leg. Brazilian defender Dani Alves lifts a ranking pass over the top of the Real defense, where Suarez has pulled away from Ramos and Pepe. He controls it instantly with his right foot and then slides a brilliant finish.
GOOOOAAAAAAAAAAAAAAAALLLLLLLLLLLLLLLLL @luissuarez9 #FCBLive #ElClasico https://t.co/JU6YlwuXTX

— FC Barcelona (@FCBarcelona) March 22, 2015
Barcelona can now enjoy a comfortable lead of four points, ahead of Real Madrid who had this lead few months ago. After 28 match weeks, Barca collected 68 points with 2 draws and four defeats, whereas Real Madrid are at second spot, having 64 points.