Once again Barcelona has made a comfortable win over Ajax Amsterdam in first match of UEFA Champions league 2013–14. Messi did a fabulous job. The captain of club scored hat-trick on first match for the after full time the team won with goal score of 4–0. The match was played in home stadium of Barcelona i.e. Estadio Camp Nou. The stadium was fully packed with audience count of 95,500. On first day Champions league Cristiano Ronaldo scored hat-trick & then it was copied by Leo. Ajax was not able to score even a single goal in that match. Now the winning team is preparing for its upcoming match of La Liga against Rayo Vallecano.
Match Statistics
Barcelona
Stats
Ajax Amsterdam

4

Goals

0

16

Total attempts

9

7

Shots on target

7

11

Fouls

14

6

Corner kicks

4

1

Offsides

1

57%

Ball Possession

43%

0

Yellow cards

2

0

Red Cards

0

7

Saves

3
Match Summary
First half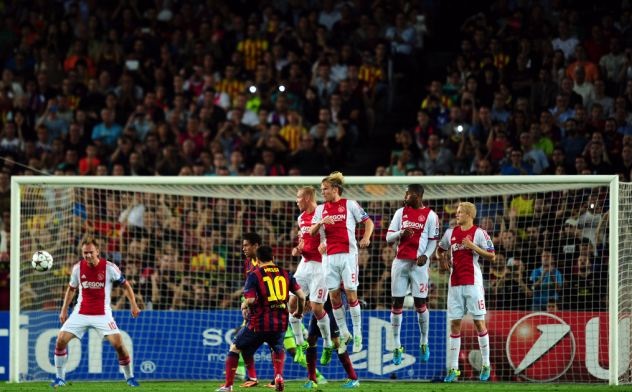 In 1st half both teams given a tough competition to each other. But Barca got more ball possession. The home team made lots of attempts on goals but they were not able to convert it into goal. Neymar also attempted a goal but it was blocked by the Dutch goal keeper. Then in 22nd minute, a dutch player did a foul and team won a free kick. Naturally, the kick was taken by Lionel. It was looking that it is an easy kick for captain and that was proved. Messi put the ball into the net after beating Ajax defense and GK. Now the team was leading with 1–0.
Second Half:
In 2nd half, the Dutch player were looking tired & other used that advantage very well. Barca players made superb passes including Iniesta who made perfect passes. Thereafter, Leo scored 2nd goal of the match and then score was 2–0. In 69th minute, Barcelona got corner kick. The kick was shoot by Neymar. It was good kick and the Barcelona defender Gerard Pique scored 3rd goal with header taking advantage of his height. Home teams fans were expecting that captain Messi to score hat-trick. He completed their wish in 75th minute after making a superb shoot on target. Now the score was 4–0 & it lasts till game end.
Goal scorers: Messi: 22", 55" 75". Gerard Pique: 69".
Cristiano Ronaldo and Lionel Messi scored hat-trick on opening match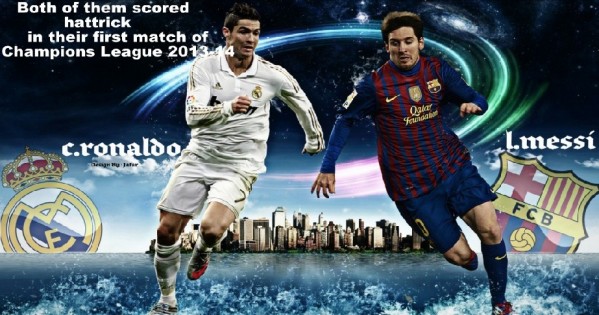 The day before yesterday, the superstar of Real Madrid, i.e. CR7 scored a hat-trick in 1st match Champions league this season. R. Madrid won that match by 6–1. On next day, second hat-trick was scored by Leo Messi in this competition. Both of these did their best. In this season of UCL, the goal average per match is raised with a huge percentage and all players are serving best game to their audience. That was his 27th hat-trick and 4th in UCL.
Other match results of last night
Match day 2 (Group stage)
Home team
Score
Away team

Chelsea

1–2

FC Basel

Schalke 04

3–0

Steaua Bucuresti

Marseille

1–2

Arsenal

Napoli

2–1

Borussia Dortmund

Atletico Madrid

3–1

Zenit St Petersburg

Austria Vienna

0–1

FC Porto

AC Milan

2–0

Celtic

Barcelona

4–0

Ajax Amsterdam