Gabriel Muniz, a super kid who is 11 years old with no feet is to train by the professional football club Barcelona. Yes Barcelona has taken the responsibility to train the boy at its best. It is interesting to note that the boy is from Brazil but the club of Spain, (Barca) is training Gabriel Muniz. Her mom said "when he was born without feet all of them were shocked. But when we find him playing football then we realize that his game has overcome the weakness of legs.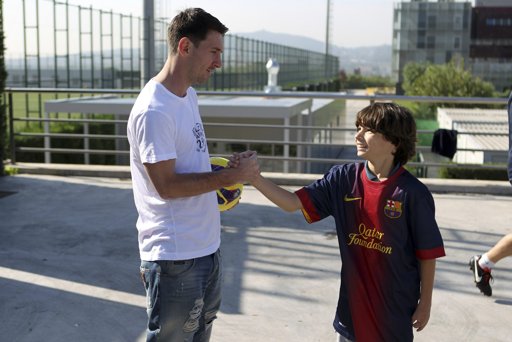 Gabriel Muniz was invited by Barcelona
Barcelona is the club of which every football player wants to meet the whole team. When Barca heard about Gabriel, then the club decided to invite him in Spain for his further training. He is just the one who can take the football to the next level. Barcelona said, he is great kid to train and we have planned lots of opportunities for him. DON'T MISS: Gabriel Muniz Boy with no Feet Spain which is the world's number 1 National football team (according to FIFA) given the chance of meeting Superstars of Barca with Gabriel Muniz. He also met with the no. 1 soccer player Lionel Messi who is his favorite footballer. Gabriel said, "Messi is not only my favorite player but also he is role model of mine. It is like a dream for me". Barcelona has taken the responsibility to train and teach all football skills of this kid and the big question is that will Gabriel play for Brazil or Spain ?
Gabriel is also on Discovery Channel
Now, if you are become a big fan of him then you can find him on Discovery Channel also. Yes the popular general knowledge channel also helped Gabriel to show what he can do with his feet. You can find him in this channel's show Body Bizarre. Now he is chasing his dream with full dedication confidence and support.