Barcelona Players Roster, Team Squad for 2015–16 Season
The Span­ish giant foot­ball club Bar­celona is all set to enter in the 2015–16 sea­son. This will be their 116th exist­ence and 85th con­sec­ut­ive sea­son in the Span­ish foot­ball league La Liga. Bar­celona will be par­ti­cip­ated in the six com­pet­i­tions this year after win­ning the three major titles in the last sea­son. Span­ish man­ager Luis Enrique will con­tin­ue their ser­vice for Bar­celona in the 2015–16 sea­son. See here the Bar­celona team squad for 2015–16 sea­son.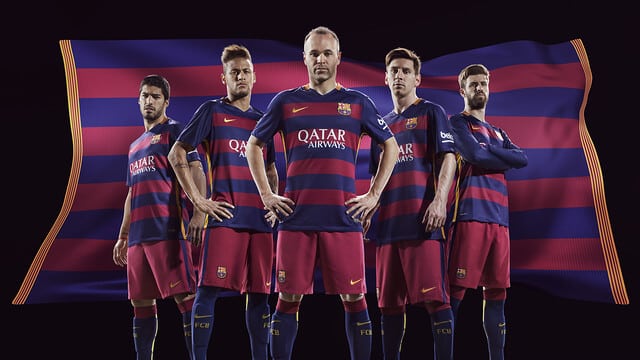 Barcelona 2015–16 Players Roster | Team Squad
Here is the play­ers name who are lis­ted for Bar­celona team in the 2015–16 sea­son.
Goal­keep­er
Clau­dio Bravo
Jordi Masip
Marc-Andre ter Ste­gen
Defend­er
Adri­ano
Bartra
Dani Alves
Diawandou Dia­gne
Douglas
Edgar le
Jordi Alba
Mar­tin Mon­toya
Jeremy Math­ieu
Pique
Thomas Ver­maelen
Mid-Field­er
Ser­gio Bus­quets
Gum­bau
Alen Halilovic
Andre Ini­esta
Javi­er Mascher­ano
Rafinha
Ivan Rakit­ic
Samper
Sergi Roberto
Xavi
For­ward
Lionel Messi
Munir
Ney­mar Jr
Pedro
Sandro
Luis Suarez
Adama Traore
Once again Luis Enrique will be seen man­aging the Bar­celona team after played import­ant role out of the field. Rober Moreno and Unzue will retain as Assist­ant Man­ager with head coach while Jose Ramon de la Fuente will be their Goal­keep­er coach.
Last year, Bar­celona win three major com­pet­i­tions e.g. La Liga, Copa del Rey and Cham­pi­ons League. By doing the treble, the Barca became the first team ever to twice win their domest­ic double as well as the Cham­pi­ons League after won their first treble in the year 2008-09.
In the Bar­celon­a's suc­cess, Messi, Suarez and Ney­mar trio scored 122 goals for Bar­celona in all com­pet­i­tions. The trio become the highest scorer in Span­ish foot­ball his­tory.
Cur­rently all Barca play­ers are on vaca­tion, but they will mark the begin­ning of the pre­par­a­tions for the new sea­son. On July 13, all play­ers will go through phys­ic­al and med­ic­al test­ing before train­ing ses­sions. Bar­celona will begin their La Liga cam­paign on 15th August 2015.