New home and away jersey of Barcelona football club for 2015–16 season have been leaked. Here are the leaked photos of Barca new 2015 kits. The Spanish football giants Barcelona will feature in new look with new Barcelona kit. According to the report, the traditional kit of Blaugrana will feature with totally new design. The manufacturer Nike will introduced unique layout for new Barca 2015–16 kits design. The leaked 2015–16 home and away kits looks totally different from its current 2014–15 design. See below the new Nike Barcelona 2015–16 home and away kits.
Barcelona 2015–16 Home Away Kits Leaked
The new leak Barcelona 2015–16 shirt with hoops as there are no stripes on this shirt and this would break a long standing tradition of blue and red striped kits. New 2015–16 home jersey of Bayern Munich is also leaked for the new season which is designed by Adidas.
The new Barcelona 2015–16 home jersey will be featured in horizontal blue and red strips despite of vertical blue and red strips for the first time in the club's history. The new Barcelona 2014–15 home shirt upper part and sleeves are solid blue while the hoops appear only on the front. This new design is called as the revolutionary design. There is a Catalan flag inside the jersey of Barca, the collar will be in v shape. On the each side, there is a yellow line in the Barca's upcoming 2015–16 home jersey. The kit supplier logo Nike and the sponsor Qatar Airways will appeared in white color. Read also: New Puma Evospeed boots for Marco Reus Short of new Barcelona home 2015–16 kit will be in red color instead of the traditional blue shorts. In 2005-06 and 2010-11 season, Barcelona wore the red colored shorts.
Barca 2015–16 Away Jersey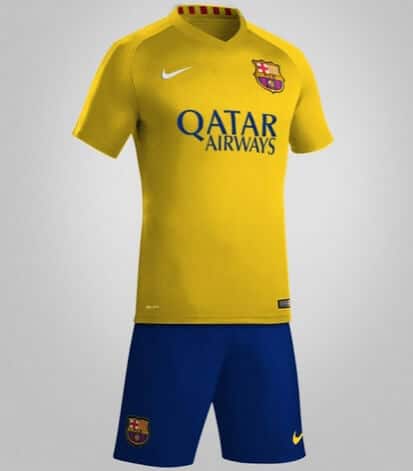 The new Barcelona 2015–16 away shirt is based on the 2013–14 away shirt which is in yellow and red design. The leaked image of the new Catalans 2015–16 away jersey backside is based on the Catalan flag color which holds yellow and red vertical stripes. The front color and sleeves feature in totally yellow. The UNICEF logo continues to be placed on the lower back of the Barcelona 2015–16 shirts whereas player name and number font style appear unchanged. Shorts of Barca for new season will be featured in traditional blue color.The new Barcelona 2015–16 kits will not be unveiled until the May 2015. This means these new uniforms are expected to arrive in the month of June next year. It is sure that it stir controversy amongst fans of the club.