The current president of FC Barcelona Josep Maria Bartomeu siad Barca's forward Lionel Messi will never be available for sale. There were lots of rumors about his transfer to other club in past weeks, but the president has now made it quite clear that the Argentine is not available for sale. Read what the Josep Maria said about the transfer of Leo Messi.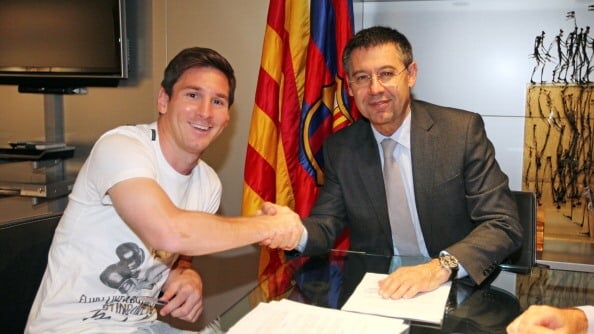 "We have no intention of selling Leo. I can guarantee Messi's continuity for this season and for the coming seasons, while praising Luis Enrique," the president said.
"He is doing a good job and I am very happy, the team is improving all of the time," the president added. He is standing for the re elections of Barca's president in this summer.
The Spanish club is unable to sign new players as Barca is facing transfer ban. The club also appealed against the transfer fan, but the governing football body FIFA rejected the appeal.
About this transfer ban, the club president said "There are people responsible for that who are no longer at the club. It's not possible that we can't bring in players because their parents cannot travel with them."
The case of Barca is almost over, but now FIFA have started an investigation against Real Madrid's signing of new players. They signed Odegaard and Lucas Silva in this winter transfer window. The club has now issued a communique on its official website, attempting to explain away the issue.
Real Madrid allege that of the 50 possible cases regarding underage players, ten were Spanish, six were at legal age, two were authorized, two were inscribed before the rules were changed, 23 come from other clubs in Spain, while two were never at the club.
The investigations into Real Madrid and other Spanish clubs will continue and if FIFA rejects their claims, the club could also find itself facing a transfer ban.