BBC vs MSN Goals, Assists Stats Comparison: La Liga has now reached a level where a new rivalry has been born. This rivalry is not about the two players or two clubs. It is about the best attacking trio of Spanish football. We have seen some great rivalries in Spain between Barcelona and Real Madrid in terms of players and clubs. But this time we brings you another interesting rivalry between Messi, Suarez, Neymar vs Bale Benzema Cristiano. Time to time, this rivalry is approaching towards a new level. The second leg El Clasico of La Liga 2014–15 is on the way. So before going to enjoy this great rivalry of Spanish football, let's have a look on stats records of MSN vs BBC.
BBC vs MSN Stats and Records Comparison
Both teams are at the stage in La Liga where there is no space for single defeat. The top two teams of Spain are still enjoying the first two positions. The vikings are currently at second spot, one point behind the vice champions Barcelona. Both teams have huge expectations from their respective trios who will play the crucial role in El Clasico of 22nd March 2015.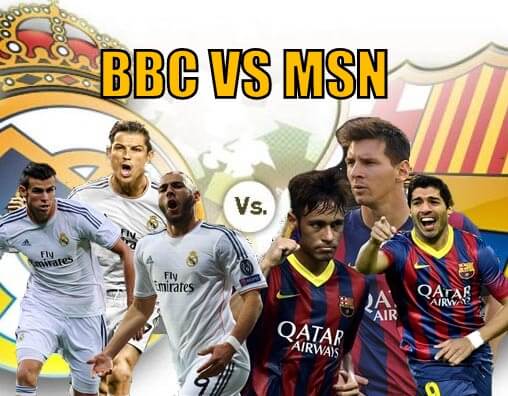 | | | | | |
| --- | --- | --- | --- | --- |
| BBC | Real Madrid total | Stats | MSN | Barcelona total |
| 55/24 | 77/62 | Goals Assists | 26/27 | 78/53 |
| 119 | 340 | Successful Dribbles | 226 | 370 |
| 295 | 486 | Shots | 240 | 443 |
| 127 | 381 | Key Passes | 136 | 328 |
| 14 | 38 | Accurate Through Balls | 28 | 58 |
Note: These stats are of La Liga games. The strongest member of MSN, Lionel Messi have netted 32 goals so far in this season of La Liga. This means out of total 56 goals of MSN trio, the Argentine have netted 32 alone. His team partner Neymar is also making this trio more aggressive who is third highest goal scorer of Liga BBVA. After slow start at Barca, Luis Suarez have started showing what he is capable of. He could be more dangerous to the vikings in this upcoming El Clasico. Cristiano Ronaldo, the strongest competitor of BBC trio is struggling to regain his form back. In this year, the player have missed lots of chances. But his team partner Gareth Bale is looking back in action. The Welshman scored brace in meeting against Levante at home. The third member Karim Benzema is doing everything to make this trio the best of all. Out of total 77 goals scored in La Liga, BBC have netted 55 of them in which Ronaldo have scored 30 goals.
MSN vs BBC Style of Play
BBC: They are good in creating set pieces. BBC are also good at shooting goals from outside the penalty box area. The sprinter of Real Madrid have scored some solo goals and long range dazzlers last year which are hard to forget. BBC also prefers to attack through the middle. But offside is again the same problem of this trio. They are also bad at protecting the early lead during the game which could be the defect of their defense. MSN: From past years, we have seen possession style of play of Barca. The trio of MSN also follows this style of play that makes them unstoppable on the pitch. They also prefers to play short passes to beat the defense of rivals. They have good ability to control on the ball even in the opposition half. One of the biggest limitations of this trio is facing offside problems. Most of MSN goals have been ruled out just because of offside. So this is the point on which MSN should take care about.