The American based sports accessories has launched home kit of Australia which will be used for FIFA World cup 2014. Now the superstars of Australian national football team will be appear in new jersey & shorts in next world tournament. Nike, along with Australian Football Federation revealed new kit for Australia. These new kits are simple but looking well with simplicity. Here are details of new uniforms of Australia.
Australia new home kit for World Cup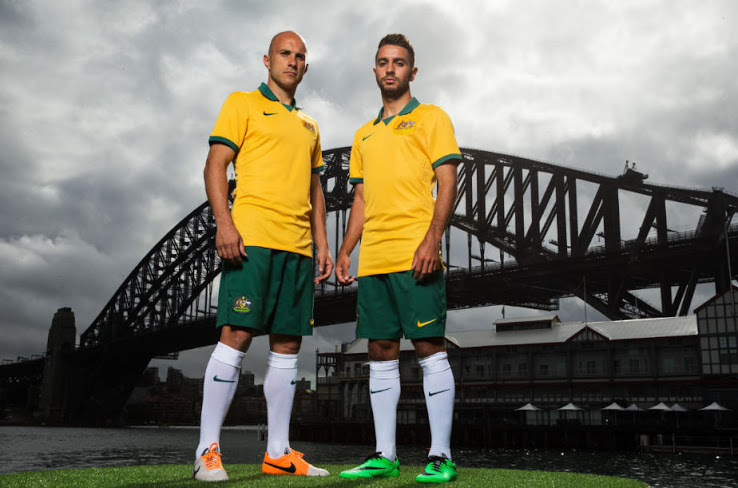 Jersey: The new home kit of Australia is designed with simple & sleek technology. The home jersey of this national team is designed mainly with yellow with addition of green appearance. The yellow color of jersey reflects the identity of team which is used for manufacture of home shirts. Neither stripes nor layouts are designed on home shirt. Whereas the collars are designed with green applications which reflects the one of the Australia when they participated in world cup for the first time in the year of 1794. The sleeves of arms are also provided with green color. At the front of Jersey, logo of Australia National football team is designed & on the right chest, there is a logo of Nike Supplier. For its designing, a unique element of the new Australia 2014 world cup shirts is the badge, which is a combination of the team's coat of arms & of the FA logo. Shorts: For designing shorts, reverse color combination is used. This means, green color is used as main color with applications of yellow. On left leg, Nike logo is there at the bottom & on right side, team's logo is marked at bottom. Socks: Socks are made with combination of white with green appearance. For main appearance white is selected for socks & for addition, green is used. Nike has stated that these kits are one of the lightest kit of football.
Away kit of Australia are is leaked
Along with launch of new home kit, the away kit of Australia is also leaked. We got some images of away jersey of national football team. The away shirt comes mainly in blue appearance with some applications of yellow color. Sleeves are also in yellow with logo of Nike at the right chest. At the back of shirt, player number is written. The shorts & socks are Australia are also in color combination of blue as well as yellow. This new kit is yet to launched & there are just leaked images of away kit. Nike will launch this away uniform very soon.