Downoad Arsen­al vs Ludo­gorets match high­lights video in which Arsen­al hammered Ludo­gorets with a 6–0 mar­gin in the UEFA Cham­pi­ons League fix­ture. The Gun­ners play­maker Mesut Ozil hat trick spear­headed Arsen­al's 6–0 UEFA Cham­pi­ons League dev­ast­a­tion of Ludo­gorets at their home ground of Emir­ates Sta­di­um. Here you can watch goals and high­lights of this match, you can also down­load that video through the provided link.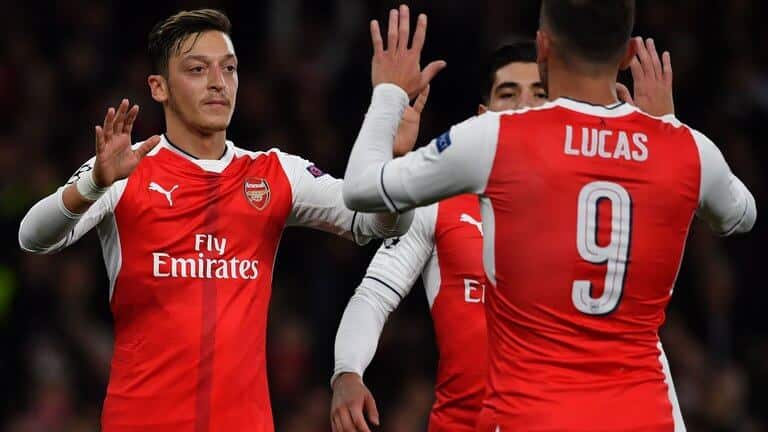 Arsenal Vs Ludogorets 6–0 Match Highlights Video Download
The Chili­an for­ward Alex Sanc­hez pro­duced a sub­lime chip shot to break the dead­lock as head coach Arsene Wenger­'s Arsen­al stretched their fant­ast­ic undefeated spell to 11 games in all tour­na­ments.
The Eng­lish mid­field duo Theo Wal­cott and Alex Oxlade-Cham­ber­lain also struck, with Mesut Ozil's second-half hat-trick help­ing the Gun­ners hold top spot in Group A.
Arsen­al remain above French giants Par­is Saint-Ger­main on goal dif­fer­ence after the Unai Emery's men won Basel 3–0.
Video high­lights
Starting Lineups
Arsen­al: Ospina, Gibbs, Mustafi, Kos­cielni, Beller­in, Cazorla, Coquelin, Wal­cot, Ozil, Oxlade-Cham­ber­lain, Sanc­hez.
Ludo­gorets: Sto­jan­ov, Luis Palo­mino, Moti, Pimi­enta, Minev, Mar­celinho, Andri­anantenaina, Dyakov, Jonath­an Cafú, Wander­son, Misid­jan.