New football kits of Arsenal FC is leaked which will be used in next season 2014/15. The English club is still on top of Premier League season 2013/14 & after arrival of German midfielder Mesut Ozil, the club is performing fantastic in all competition so far. An image featuring Arsenal's former legend Thierry Henry, Giroud, Sagna is leaked wearing new Jersey. Here we are sharing new home, away & third shirt of Arsenal. Check out latest images of leaked uniform.
Arsenal New Kit 2014/15 Leaked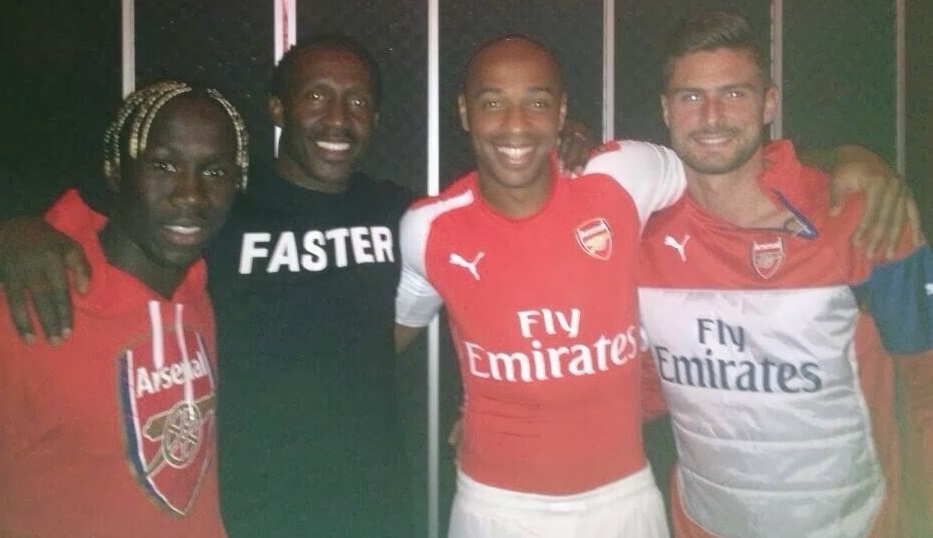 New kit of Arsenal is designed by German brand Puma. Puma has completed a deal of 170 million pounds with this English club for next 5 years starting from 2014/15 season. For next 5 season, Puma will design new kits for this English club.
New 2014/15 home jersey of Arsenal is made with red as main color with white colored applications. No big changes are made on latest shirt & it looks alike current jersey of 2013–14 season.
At front of shirt, banner of Fly Emirates is designed in white color. On left side chest Club logo is designed & on right side Puma logo is there which is also in white appearance. This latest Arsenal 14/15 uniform is based on Puma speed Short sleeved shirt, but it comes with premier variation of design.
Shorts are in white appearance which are similar with current type. There is a single red colored stripe on shorts starting from waist to bottom of short. Socks are also made with combination of red & white color.
Away kit of Arsenal for 2014/15 season
For design of away jersey, blue & yellow color combination is used. Yellow is used as major appearance, while stripes of blue color are making this jersey more attractive. Both logos are at same place, but color of Puma logo is made in blue color on away jersey. Info about shorts is not revealed so far.
About third kit of Arsenal, only color of uniform is leaked. This means third kit of this club will be in blue as main color. Along with Arsenal, kits of some other clubs are leaked. After this season, The Gunners will wear this jersey in next Premier League & UEFA Champions League.