Juventus superstar Andrea Pirlo has picked up his dream team of UEFA Champions League. The one time FIFA World Cup and two times Champions League winner named his teammate Gianluigi Buffon as best goalkeeper in his dream team. One of the naming newspaper The Daily Mail asked Andrea Pirlo to reveal his dream team. So let's have a look on those players who are selected by the Italian legend Andrea Pirlo.
Andre Pirlo Champions League Dream Team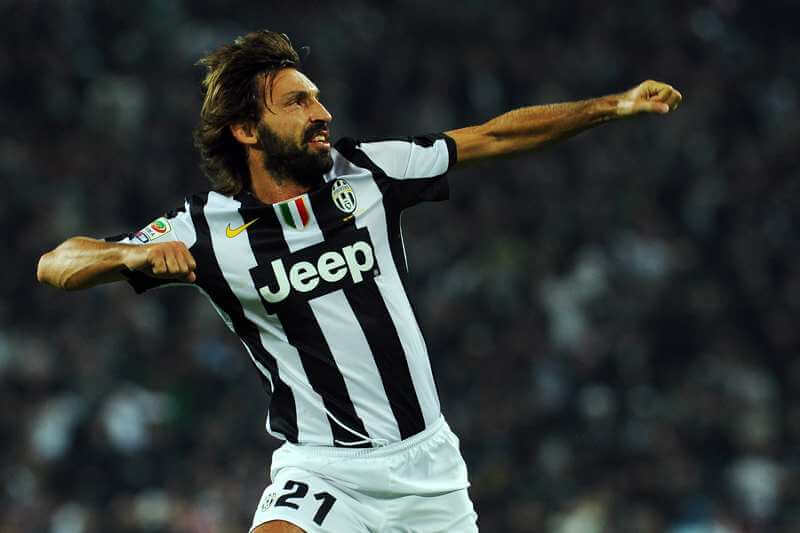 Goalkeeper Gianluigi Buffon: Pirlo selected his national and club team mate Buffon in his team who have won almost every title at club and international duty. Both of them tasted greatest victory in 2006 when both won FIFA World Cup. About Buffon, Pirlo said "He has been at the top for so long. He makes saves that no other goalkeeper in the world can make. He knows how to command the defense and give confidence to them."
Defenders Paolo Maldini: One of the most successful AC Milan defender took his club to new heights. In his footballing career of twenty four years, Maldini won 26 trophies with Italian club AC Milan. Maldini won the Champions League trophy for the five times in his career. About Maldini, he said "A defender who could read the game like nobody else, so intelligent and always so calm on the ball. One of the true greats, for both Italy and Milan."
Philipp Lahm: Here comes another great defender who won almost everything with his club and national football team. The current world cup champions Philipp Lahm has been picked up by Andrea Pirlo. Being captain, Lahm lifted the fifth Champions League title with Bayern Munich and finished at second spot in 2010 and in 2012. According to his Bayern coach Pep Guardiola, he is the most intelligent player that Guardiola ever coached.
Cafu: Pirlo selected Cafu in his dream team as defender as he is responsible for Brazil's dominant performance in last decade when they dominant football. He spent some great moment with Cafu and lifted the trophy of European Cup with Milan in 2007.
Midfielders Xavi Hernandez: The midfield magician Xavi Hernandez also got spot in the dream team of Andrea Pirlo. Fabulous product of Barcelona won FIFA World Cup, UEFA Champions League, Euro Cup, FIFA Club World and other tournaments with Barcelona and Spain. Xavi won three Champions League title with Barcelona in the year of 2006, 2009 and in 2011.
Paul Scholes: When it comes about midfield, how can one forget the name of Manchester United legend. Paul Scholes is one of those midfielders with whom every footballer wanted to play. Two times champions League winner Paul Scholes spent most of his career at Old Trafford and won lots of trophies. Pirlo spoke about Scholes "The truly great English midfield player of the generation. Didn't just play the game, he thought about the game. You could see every pass, every decision, was based on his intelligence and understanding."
Gennaro Gattuso: With Xavi Hernandez, Pirlo also picked up former Barcelona midfielder Gennaro Gattuso in his dream team of UEFA Champions League. It would be not incorrect to say that he was all rounder of his football era. He was capable of playing at any position. This was why the managers preferred to play him at midfield.
Forwards Lionel Messi: For Andrea Pirlo, the team cannot be completed with the presence of Barcelona's superstar Lionel Messi. The four times FIFA Ballon D'or winner and three times Champions League winner is favorite of everyone's these days. He is the only footballer in the history who is nominated for eight times in top three contenders of best player in the world. At the age of 27, Lionel Messi is at his peak performance and still yet to come from the Barca magician.
Ricardo Kaka: World Cup winner, Champions League winner and Ballon D'or winner, Kaka is the player who made people love football. About Kaka, Pirlo said "I remember how badly we took it as a team when Kaka left Milan. For two or three years he was the best player in the world. There was a point when teams just had no idea how to stop him."
Fillipo Inzaghi: Pirlo played lots of football years with Inzaghi who is now known as the manager of Milan. With AC Milan, Parma and Juventus, he scored total of seventy goals in 114 European games. The two times Champions League winner currently managing Milan after spending great career as a footballer of the club.
So this is the Champions League dream team of Andrea Pirlo. Does this team matches with your dream team of UEFA Champions League?