A Manchester United fan has wrote a letter to the club manager Louis Van Gaal after their defeat at the hands of Southampton. Man United were defeat at their home soil by The Saints after 27 years. Manchester United are now at forth spot in current league standings. After playing twenty one games, they have won 10 games with loss of 4 games and 7 draws. The Red Devils are 12 points behind league current leaders Chelsea.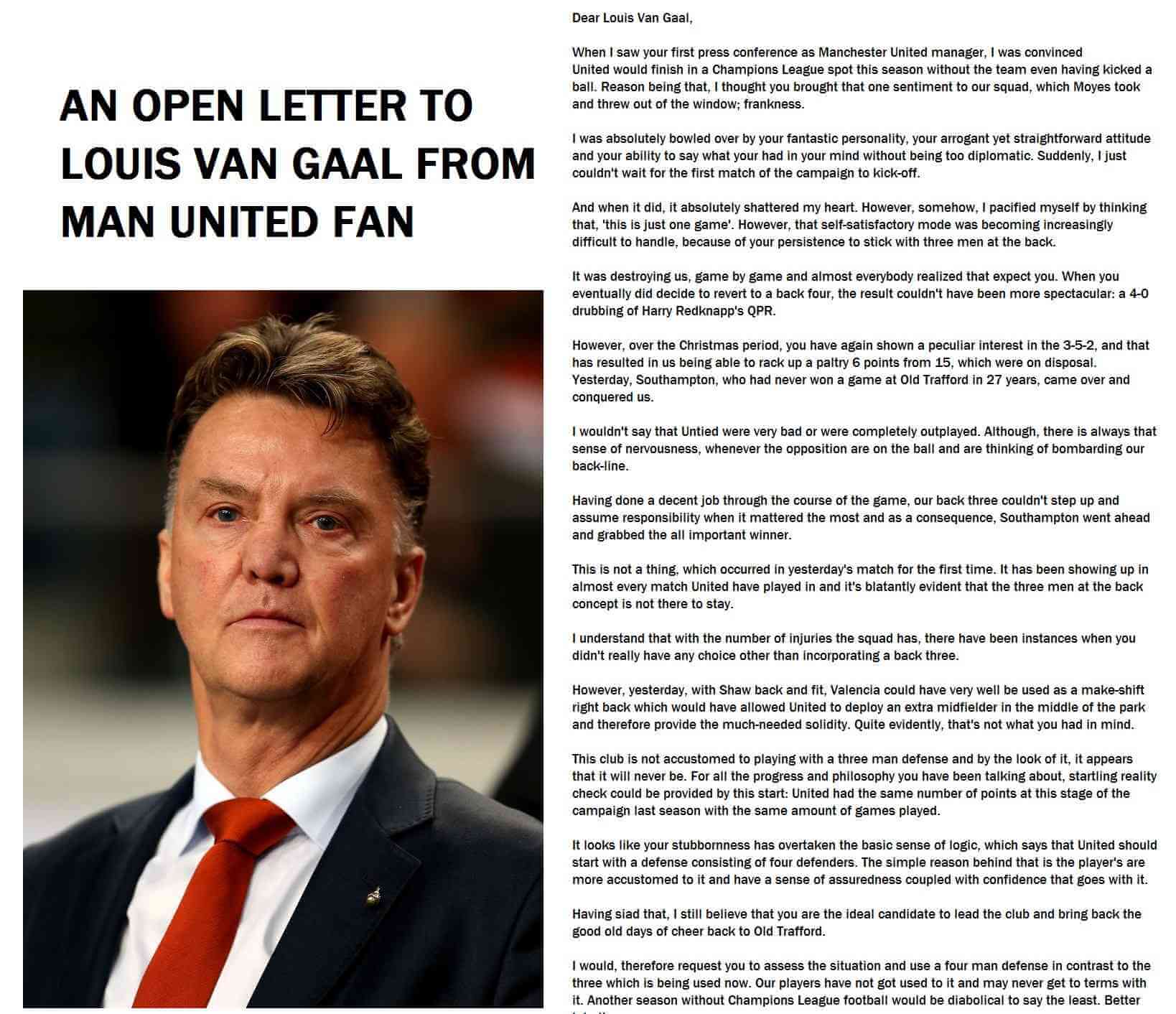 Dear Louis Van Gaal,
When I saw your first press conference as Manchester United manager, I was convinced United would finish in a Champions League spot this season without the team even having kicked a ball. Reason being that, I thought you brought that one sentiment to our squad, which Moyes took and threw out of the window; frankness.
I was absolutely bowled over by your fantastic personality, your arrogant yet straightforward attitude and your ability to say what your had in your mind without being too diplomatic. Suddenly, I just couldn't wait for the first match of the campaign to kick-off.
And when it did, it absolutely shattered my heart. However, somehow, I pacified myself by thinking that, 'this is just one game'. However, that self-satisfactory mode was becoming increasingly difficult to handle, because of your persistence to stick with three men at the back.
It was destroying us, game by game and almost everybody realized that expect you. When you eventually did decide to revert to a back four, the result couldn't have been more spectacular: a 4–0 drubbing of Harry Redknapp's QPR.
However, over the Christmas period, you have again shown a peculiar interest in the 3–5‑2, and that has resulted in us being able to rack up a paltry 6 points from 15, which were on disposal. Yesterday, Southampton, who had never won a game at Old Trafford in 27 years, came over and conquered us.
I wouldn't say that Untied were very bad or were completely outplayed. Although, there is always that sense of nervousness, whenever the opposition are on the ball and are thinking of bombarding our back-line.
Having done a decent job through the course of the game, our back three couldn't step up and assume responsibility when it mattered the most and as a consequence, Southampton went ahead and grabbed the all important winner.
This is not a thing, which occurred in yesterday's match for the first time. It has been showing up in almost every match United have played in and it's blatantly evident that the three men at the back concept is not there to stay.
I understand that with the number of injuries the squad has, there have been instances when you didn't really have any choice other than incorporating a back three.
However, yesterday, with Shaw back and fit, Valencia could have very well be used as a make-shift right back which would have allowed United to deploy an extra midfielder in the middle of the park and therefore provide the much-needed solidity. Quite evidently, that's not what you had in mind.
This club is not accustomed to playing with a three man defense and by the look of it, it appears that it will never be. For all the progress and philosophy you have been talking about, startling reality check could be provided by this start: United had the same number of points at this stage of the campaign last season with the same amount of games played.
It looks like your stubbornness has overtaken the basic sense of logic, which says that United should start with a defense consisting of four defenders. The simple reason behind that is the player's are more accustomed to it and have a sense of assuredness coupled with confidence that goes with it.
Having siad that, I still believe that you are the ideal candidate to lead the club and bring back the good old days of cheer back to Old Trafford.
I would, therefore request you to assess the situation and use a four man defense in contrast to the three which is being used now. Our players have not got used to it and may never get to terms with it. Another season without Champions League football would be diabolical to say the least. Better late than never.
Yours sincerely, A Red Devil.