How many goals has Messi scored in 2017/2018 season? Lionel fans will be glad to hear that their fav has scored 43 goals in 52 games this season beating his long-time rival Cristiano Ronaldo with only 42 goals in 43 games.
The eternal battle between Messi and Ronaldo continues, as the
Real Madrid
top star still has a chance to beat Lionel's score record in the
UEFA Champions League
final against Liverpool. As for the
Lionel Messi
stats, Barcelona striker can boast a good track record this season featuring:
34 Messi La Liga goals (9 goals ahead of Ronaldo);
4 Messi goals in Copa Del Rey;
5 goals in UEFA Champions League.
Messi has scored 2 goals against FC Chelsea in the UEFA Champions League featuring his fastest career goal (i.e. 2:08). One will hardly hesitate Lionel winning the Golden Shoe in addition to Pichichi Trophy and some other prestigious awards. On the other hand, Cristiano Ronaldo has a chance to break the record and win another UEFA Champions League trophy in a row leaving all his rivals behind, while Barcelona is off the tournament along with its top striker.
Messi vs Ronaldo Goals and Assists in 2018
National As for Lionel Messi goals in 2018, he scored 26 times leaving Cristiano 4 goals ahead of Lionel. Although Portuguese striker can boast only 28 goals in the league, he managed to score 2 times for his international team as well. Once again, Barca A‑star has shown a better communication with his partners on the pitch performing 11 assists in 2018. For this reason, general Messi stats in 2018 look pretty better if compared with Cristiano Ronaldo with only 5 assists in 2018.
Lionel Messi All-Time Career Goals
Ronaldo vs Messi 2017–18 statistics highlights one of the most spectacular scoring competitions of our time. The Real Madrid strike boasts better all-time scoring results with his 654 all-time career goals including league, international team and other tournaments. At the same time, Ronaldo is older than his arch rival. Messi still has a chance to improve his scoring stats that highlight 613 spectacular scores in all torments.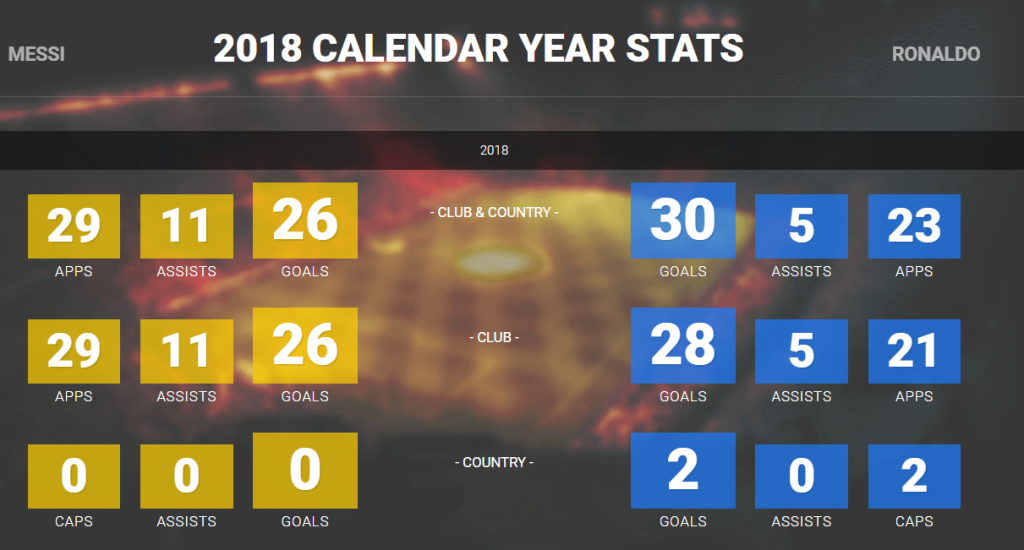 On the other hand, Lionel Messi has proved to be a more team-oriented player performing 249 assists throughout his entire career in all games. In this particular standing, Messi is 42 points ahead Cristiano who seems to be more concentrated on scoring considering the current Ronaldo stats.