World's leading sports kit manufacturer Adidas has recently signed a new world record deal with the current Bundesliga champions Bayern Munich. The German team and German sports manufacturer wants to extended the long term deal with each other. Adidas will provide kits for the Bavarians via this kit deal from next season. An Adidas spokesperson, Oliver Bruggen confirmed the world record deal of Adidas with Bayern Munich.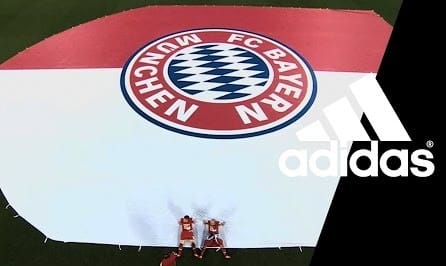 Adidas World Record Deal With Bayern Munich
Before this deal, Adidas signed the world's highest deal with British club Manchester United worth €75 million in the year of 2014. From this season [2015–16], Adidas will provide new its for Manchester United.
According to the German newspaper Sports Bild, Adidas has signed a €60 million / season deal which makes the world's second most expensive deal. This deal has been finalized for 15 years which calculates as €900 million for next 15 seasons.
The all new kits of Bayern Munich 2015–16 have been leaked which are set to be unveiled in the next few weeks. During the month of summer, the home and away kit of Bayern Munich for 2015–16 season will be revealed.
On confirming this deal, Oliver Brueggen said "Adidas continues the successful decades long partnership with FC Bayern Munich with the contract extension until 2020. The contract extension until 2030 sees Adidas continue its decades long successful partnership with FC Bayern Munich."
"The commitment underlines our new strategy. In the future, we will concentrate more to sign deals with selected high profile clubs and national teams as well as young ambitious players."
Despite winning the 25th Bundesliga title this season, the Jersey of Bayern Munich will have four stars in place of five. According to Bundesliga rules, the first star was awarded for three titles, a second for five titles, a third for ten titles and a fourth for 20.
According tot he rules, only German titles won since Bundesliga 1963 to now are counted towards the stars tally which means Bayern Munich only has 24 titles. So this is the reason why the new jersey of Bayern Munich will be featured with four stars instead of five.