Adidas new primeknit 2.0 blue and green football boots of 2015 unveiled
Presenting the all new second generation football boots of Adidas in the form of Adidas Primeknit 2.0 2015 Blue Green. With completely new design and addition qualities, the soccer boots of Adidas are all set to let you enjoy best of soccer. Its new sock like collar design will attract you and with an ease.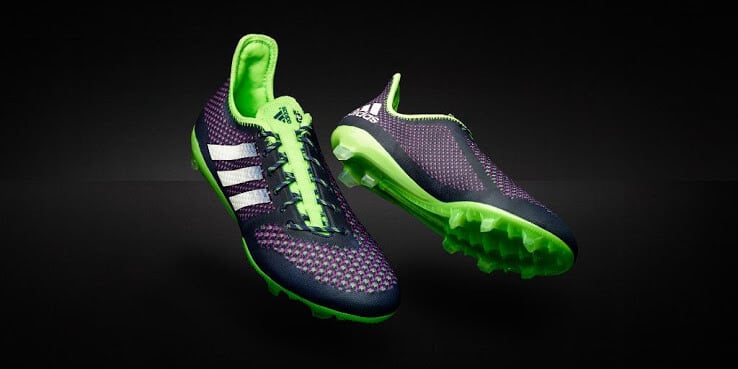 Adidas Primeknit 2.0 Black Solar Green Football Boots
Last year, Adidas unveiled Primeknit 2014 football boot which was the first ever knitted boot of football. The perfect combination of multicolor makes these boots more interesting.
Adidas added a thin black synthetic layer on the knitted upper that provides more durability. It also helps in better ball control even in wet situation. Seamless fit is provided on the one piece woven upper of the all new Primeknit 2.0 cleats of Adidas.
Black colored synthetic layer covers the whole upper part of boot and the yarn knit combines the striking colors pink and green. Great work has been done on the upper and at the back in embroidered styling. It comes mainly with dark navy in addition with silver.
Tongue of boots is designed with solar green on which dark navy Adidas trademark logo is there. Some more work on tongue is done like tunnel way for the laces. There are total of six tunnels on tongue of Adidas Primeknit 2.0 2015 football shoes.
Heel area is made little bit higher than normal featured with similar color combination. At the heel area, white colored Adidas logo is there. Just like 2015 Adidas Adizero F50, sole plate of these new primeknit boots is manufactured with same material. Inside sole area, you can see text "Primeknit," representing the name of boot on solar green background.
Related: Adidas Adizero 99g white football boots
The German sports kit supplier will continue to launch Ace, X and Messi boots, but it Adidas will not continue Adipure 11pro, Adizero Nitrocharge and Predator boots.
These new Adidas Primeknit 2.0 2015 soccer shoes will be used for the first time by Barcelona's forward Luis Suarez and Bernat. This means we could watch these new soccer cleats in the upcoming Champions League second leg quarter final between Barcelona and Paris Saint Germain.
Related: Adidas Adipure 11pro SL boots
Price of Adidas Primeknit 2.0 2015 Football Boots
The price of these boots is not more than 300 USD [250 Euros approx.] Adidas have stated that only 10,000 units of these boots will be available from some selected stores.