Adidas has launched their new football boots Adidas Predator Mania which is remake of Adidas Predator Mania 2002 Boots on 1 September 2014. Their first edition were launched for 2002 FIFA World Cup which was held in South Korea and Japan. Those football boots were worn by Zinedine Zidane, David Beckham, Raul and Del Piero. Check out the latest pictures, images and have a close look on these new Adidas boots.
Adidas Predator Mania 2014 Remake Boots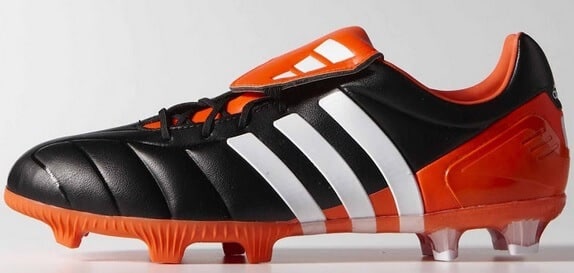 The all new Adidas predator boots are designed with three color combination Black / White and Orange. The German sports kit supplier has used their new Hybrid touch upper material for the remake version. The upper sole of these boots are designed with a soft kangaroo leather case.
Adidas three stripes are marked on inner side with 2 splits in white appearance. Shoe laces are in black appearances, whereas tongue is designed with orange background featured with white trademark logo. The eye catching runner elements are white, positioned on the in-step of the boot to generate more swerve.
Read also: Nike Mercurial Vapor X CR7
Inside the boot, name of boot "predator" is written with orange appearance on black background. The outsole comes with the iconic design of the original boot, it features the Control Frame Technology of the modern Predator. The rubber provided on outer sole provide better ball control.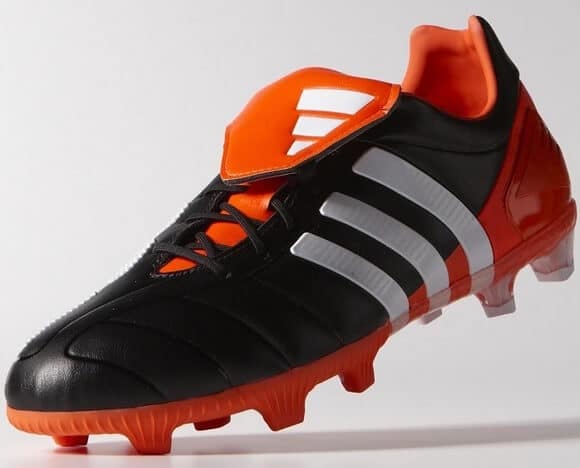 Recently, we have seen Black and Red Predator boots of Adidas few days ago.At the back of these shoes, the three stripes trademark logo of Adidas is there along with 3 vertical stripes in white appearance. Spikes of Adidas Predator 2014 remake boots are made with orange and white color combination.
These boots are now available for offline and online purchase. Adidas Predator 2014 remake shoes are available in limited edition. The manufacturer company have stated that total of 1825 pairs will be available for purchase. So get your new predator and enjoy your football in new action.