Good news for the Football Cleats lover, once again the German manufacturer Adidas is ready to release the new stuff of Football Boots. In early 2015, the new Solar Red, Night flash and White Adidas Predator Instinct 2015 Football Boots will be released. For the 2015 Adidas Predator Instinct Soccer cleats, Adidas creates a totally different and new design which gives an attractive look on the pitch. Check out the design, color and technology used by Adidas in this new Adidas Predator Instinct 2015 Cleats with leaked images.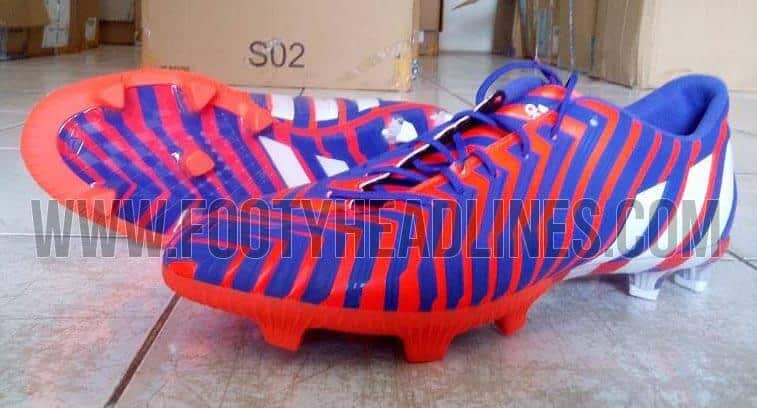 Adidas Predator Instinct Red Blue 2014 Boots Leaked Images
In February 2015, all the superstars such as Angel Di Maria, Mesut Ozil, Oscar and Xabi Alonso will switch to the new stuff Solar Red / Night flash and White Purple Adidas Predator Instinct Cleats. The Solar Red / Night Flash Adidas Predator Instinct 2015 Football Boots features a soft Hybrid touch upper. On the upper part, Adidas highlights the 3D engineered SL Rubber elements using the striking color Night Flash which is combined with Night Flash lines pattern to give totally different and new look. In this Football boot, Adidas used the same technologies which they used in the first Predator Instinct. The new Adidas Predator Instinct Boot feature 3D engineered SL rubber as well a new passing pad which helped for ultimate ball control in all type of weather conditions. Read also: Adidas Adizero F50 Hunt Boots The semi-transparent sole plate is used on the upper striking portion of the new 2015 Adidas Predator Instinct Cleats. To better grip trough the forefoot in all weather conditions, the Adidas Predator made up with transparent Firm Ground outsole. From February 2015, the new Solar Red / Night Flash / White Adidas Predator Instinct Football Boots will be available at selected retailers in different regions. In December 2014, Adidas will also unveil a classical Black / Red / White Predator Boot. Stay tuned with us for more stuffs and updates related to the Adidas Cleats.