Adidas has announced the release date of Manchester United 2015–16 kits. The German sports kit supplier replaced Nike after signing world record deal with the British club last year. Adidas have singed a new deal with Man Untied for and it will provide kits for next 10 years with 75 million pounds per year. Given below is the launch date of Adidas Man United 2015–16 kits. Continue to read for the official release date of new kits.
Adidas Manchester United 2015–16 Kits Release Date
1 August 2015
The official kits of Manchester United for the new season will be released on 1st August 2015, few weeks before kick off of next season.
Home jersey of Red Devils will be in red featured with white stripes. The collars are expected in V‑shape in white appearance. Golden Chevrolet sponsor logo will be at the center of home jersey. Home shorts are expected in black with white applications.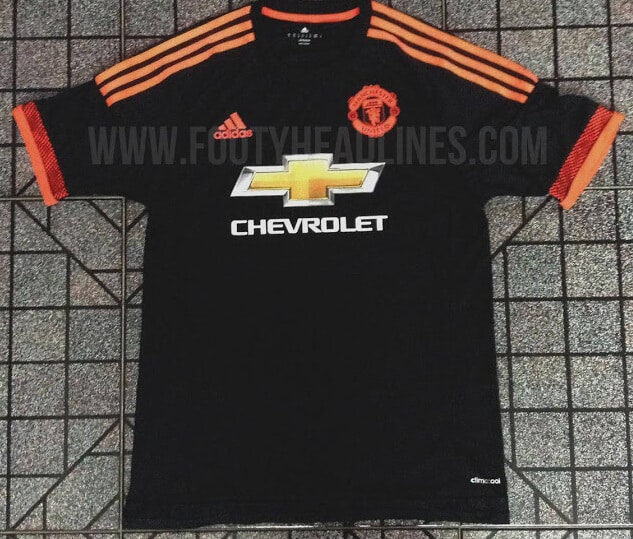 The away jersey of Manchester United for 2015–16 will be in white on which red linings are crafted beautifully. You can call the away jersey, the reverse of home jersey. Its V‑collar of is white with two red lines at the upper end. Also, there is slight tonal hoops as well as embriodered club heritage designed on hem. Adidas trademark logo is in red tone on right chest.
Third kit of Manchester United for 2015–16 is pretty cool if you like orange featured in dark color. White is replaced by black and red is replaced by orange. Black Adidas Manchester United 2015–16 away kit featured a flashy red monochromatic club badge and a red Adidas performance logo. Two tones of orange colour is also provided at the ends of sleeves which is looking quite impressive.
The new kits of Man Utd 2015–16 are all set to be unveiled on 1 August 2015. Which kit do you like the most?