The German sports giant Adidas has launched the all new Adidas Adizero F50 Yamamoto new 2014–15 football boots. With the launch of Real Madrid 2014–15 third kit, the boots are now officially launched for new season. Yohji Yamamoto, who designed new kits for Real Madrid third kit is the designer of these new cleats. With a new design and new extra strength, these boots are considered as a new invention in football products. Have a look at these new boots of Adidas.
Adidas Adizero F50 Yamamoto 2014–15 Football Boots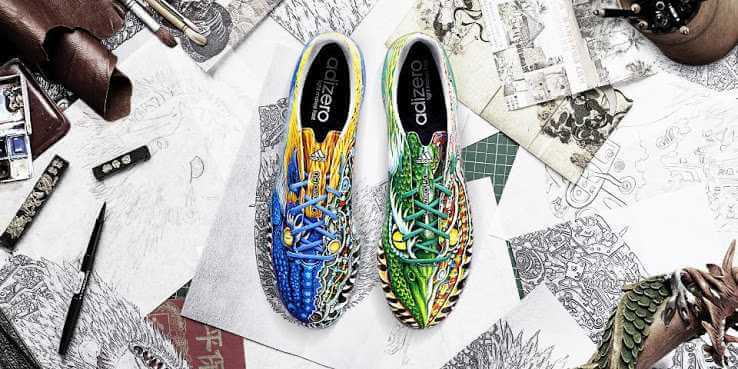 In single pair of boots, both shoes are designed with different color shades. The right one is in blue appearance, whereas the left boot is in green. Although we have seen different colored soccer cleats of Puma, but these are designed with extra patterns. Designer Yohji Yamamoto has introduced something new in football shoes which was never used before. On the front of it, there is a dragon appearance on each boot featured with mouth and eyes. The design is so real that it looks like alive when you take a side look on it. Idea of Dragon is inspired by the third kit of Real Madrid for the new season 2014–15. It is great combination of Japan's modern sci-fi cultrure creating a spiritual connection between the past and the future.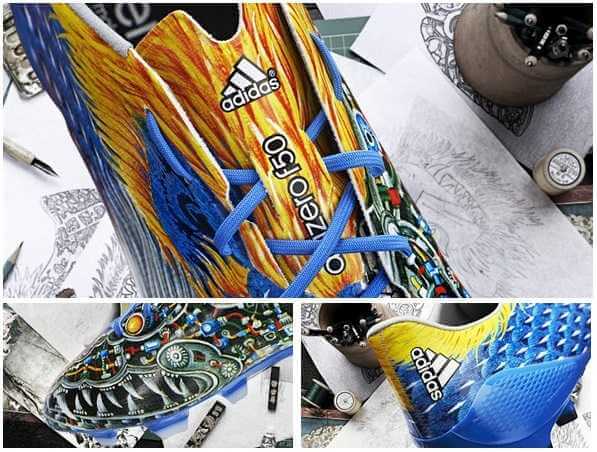 We have seen Adidas three stripes on all boots of Adidas. But this time, 3 stripes are not available on these boots. It is so because to give Yohji Yamamoto full freedom to design one of the most special boots ever, the stripes are not marked on these boots.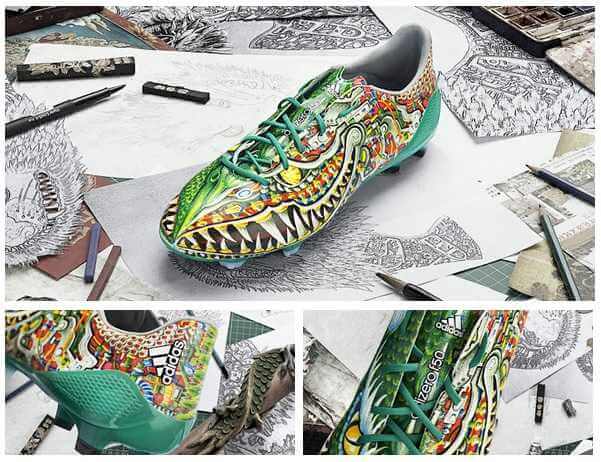 However, white colored trademark logo of the kit supplier is available on the tongue and at the back of shoe. Name of boot "Adizero f50" is also written on tongue of boot. It is not featured with the speed foil material on its heel.
Adidas Adizero F50 Yamamoto Boots Availability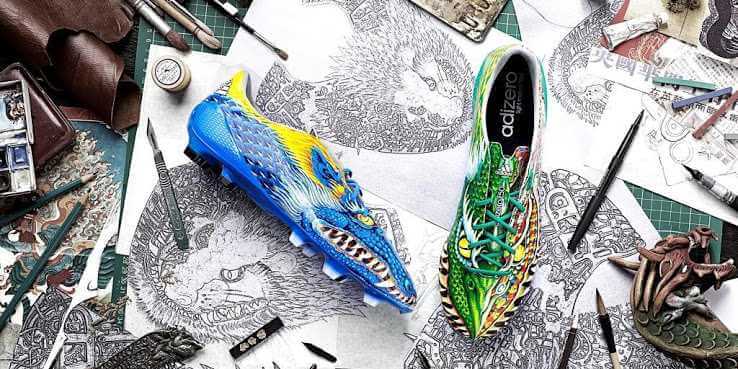 These new boots will be used by Real Madrid players like Gareth Bale, James Rodriguez and Marcelo in the upcoming match of La Liga. This means we could see these players with Adidas Adizero f50 Yamamoto boots in next match against Real Sociedad on 31st August 2014. All of these players were available with Iker Casillas, Xabi Alonso during the third kit launch presentation. The all new shoes are available on retailers. Adidas have mentioned that these are available in limited edition with total pairs of 2,000. So if you liked these, then rush to your nearby store and feel the new sportsmanship.