Adidas have revealed the all new Adidas Adipure 11Pro SL black and green football boots which are now available for purchase in stores. These latest soccer cleats are extremely light in weight but extraordinary in performance. You can call these shoes the next generation Adidas football boots because of their new design and physical appearance. So get ready to take a look on black green new Adidas Adipure 11Pro SL boots. Just continue your reading to know more.
Adidas Adipure 11Pro SL Next Gen Boots
The forefoot of Adidas Adipure 11Pro Super light are designed in with skeleton technique for more stability. These are specially designed for the control on speed and high level comfort. In the manufacture of these leather shoes, Adidas has used the revolutionary technology. Check out the pictures of 11Pro boots below.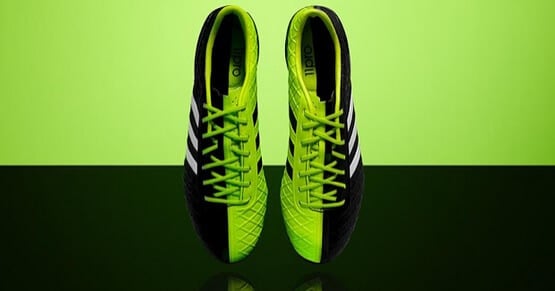 Few week ago, Adidas launched Adizero F50 Hunt White Green and Predator Supernatural blue green boots which glows in dark. These are also getting good response from customers.
Design of this boot is divided into two equal halves. One half is made with black background on which white colored applications are marked. While, the other half is designed with green back ground on which black stripes are there that are adding uniqueness.
Half and half application is continued on the tongue of the new Adipure boots of Adidas. Its inner sole and laces are featured with solar yellow applications. Laces are tied in zig-zag manner.
Adidas 2015 Next Gen Adipure 11Pro
Making super light weight football boots was the toughest challenge for the manufacturer of Adidas Adipure 11Pro SL. So in order to make these shoes light in weight, the engineers used soft synthetic material. Kangaroo leather is known for light in weight and good strength that is used for upper sole.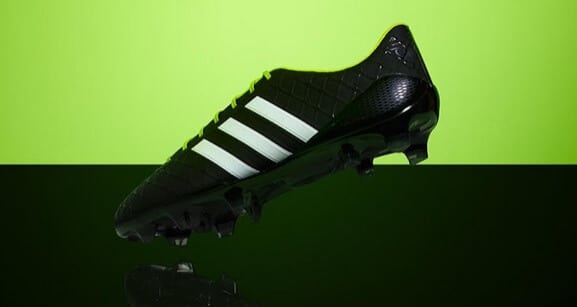 For better traction at increasing high speed, the sprint frame technology is also used on its outsole. Sole of Adidas Adipure 11Pro SL is in totally black application. On its inner, name of boot "11Pro" is written with black color on solar yellow background.
So these are the new Adidas Adipure 11Pro SL football boots. In upcoming weeks, Adidas is planning to unveil some new shoes of same family.