Cristiano Ronaldo is not only known for a football superstar but also for a noble hearted person. That was seen during a match of Real Madrid & Chelsea. Most of players thinks that he is just a footballer but he is above all for his fans. Sometime the craze in mind of your superstar reaches to that level which forces you to do whatever you can do for seconds of meet with him. You know what will be the result of it but still you wants to do that. This craziness was seen during the match of these two teams.
A Ronaldo fan entered into pitch breaking all restrictions
About one month ago (on 7th August 2013) this desperation was observed during a match of The Vikings. The Vikings were leading the match against The Blues by 3–1. During second half, 20 years old crazy fan of Cristiano Ronaldo jumps into pitch & ran towards him.
He hugged Cristiano & did not want to leave that moment. Ronaldo also did not make any issue & he has done whatever his fan wants. The game was stopped by Referee's whistle & all eyes were watching both of them. His fan wore his named jersey Jersey also. After hugging he also asked Ronaldo's personal phone number. But CR7 was not in condition to do so. Finally, security guards took him away from Cristiano. Whole crowd of stadium gave standing ovation to both. It was an earth-quake of clapping & shouting. Thereafter the boy was arrested due to his misbehave what he done. It could be dangerous for him which could expelled him from college send back to his country Albania. His attorney Richard Hujber said "he may face some problems in his college".
What Ronaldo did after this incident?
When Ronaldo noticed that the boy is facing such problems then he wrote a letter to Miami Dade State Attorney's Office. He mentioned "I understand your position & importance of rules & regulations. I request you to reconsider these cases & dismiss all charges which this young man facing." By this step of CR7 it is cleared that with a 2 great football legs & natural body, he holds a gold heart inside him. After reading this incident, have you ever noticed the name of that boy? If yes, then here is your answer. His name is Ronald Gjoka. Watching it is more interesting that reading it. Isn't it? So here is the video. It will take only 1:08 minutes of yours. Ronald Gjoka has apologized for what he has done that day. Match results; Real Madrid: 3 – Chelsea: 1 He said sorry also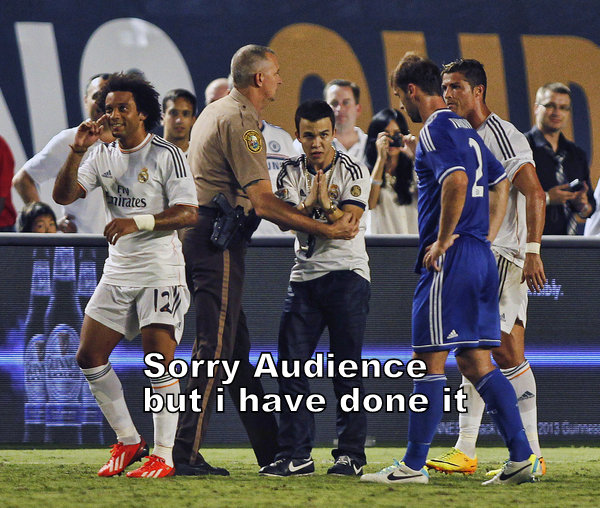 So how much you like this from Footballwood? If you have any query or suggestion, then mention it below. We will get to back you within 24 hours.