As usually, the 23 man list for the FIFA Ballon d'Or has been narrowed down to the Best 3 players for the nominations of FIFA Ballon D'or award. There finalists of best three of this year are Lionel Messi, Cristiano Ronaldo and Manuel Neuer. The defending winner of Ballon d'Or Cristiano Ronaldo has been included in the top three with Lionel Messi who is nominating in the shortlist for consecutively eight straight season while Manuel Neuer becomes the first goalkeeper to be nominated in the race since 2002.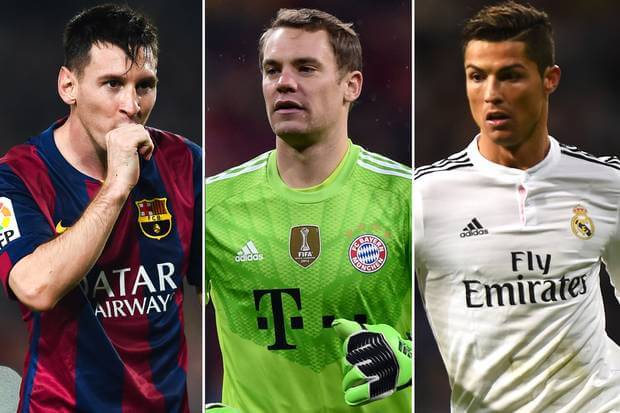 2014 FIFA Ballon D'or Top 3 Nominations
FIFA President Sepp Blatter said "Fans of football everywhere, look forward to this moment every year. This year we have been lucky enough to witness so many talents. These awards show young players just what can be achieved through dedication and commitment. Crucially, these awards allow FIFA to show the spirit of fair play."
Lionel Messi [Argentina]
La Liga leading goal scorer, Lionel Messi has won the honour consecutively four years from 2009 to 2012. This is Messi eight straight nomination in the final three and contesting in the race to claim the honour for fifth time in his career. Messi was the winner of the Golden Ball award at the tournament as he had a great World Cup outing with Argentina reached the finals.
Cristiano Ronaldo [Portugal]
Current holder of the Ballon d'Or award, Ronaldo had scored 51 goals in the 2013–14 season and his remarkable form helped his club Real Madrid to achieve the dream of La Decima. He was best with his team, but knockout in group stage of FIFA World Cup could be the danger for the Portuguese captain. He ending up as the top scorer in Europe.
Manuel Neuer [Germany]
Since 2002, Neuer becomes the first goalkeeper to be nominated in top three. If he will win the FIFA Ballon d'Or award , he can create history by becoming the first goalkeeper to win the award in 21st century. Before that, Oliver Kahn and Gianluigi Buffon were nominated in the top three list but failed to win it. Neuer has conceded just 13 goals in year 2014 and enjoyed a World Cup winning campaign with Germany this year in Brazil. Will Messi win the Ballon d'Or award for fifth time or Ronaldo will defend the best player of the year title or the world champions will create the history? Who knows Name of best player of the 2014 will be announced on 12 January 2015 the Ballon d'Or Gala in Zurich, Switzerland.