The 16 years old Norwegian footballer Martin Odegaard has signed for the Spanish club @ £2.3 million. The player has been touring Europe's top club in recent weeks. He was spotted with his new team mates Cristiano Ronaldo and Sergio Ramos at Santiago Bernabeu. Much is expected of Odegaard, with pretty much every European elite football club rumored an interest in securing his signature.On 22nd Jan 2015, Real Madrid officially announced Martin Odegaard as new player. A tweet was also found on twitter featuring "Odegaard: It's a dream come true to be at the biggest club in the world".
Odegaard: "It's a dream come true to be at the biggest club in the world" http://t.co/GNjJDiEz3C #HalaMadrid pic.twitter.com/cgYN6ewG33 — Real Madrid C.F. (@realmadriden) January 22, 2015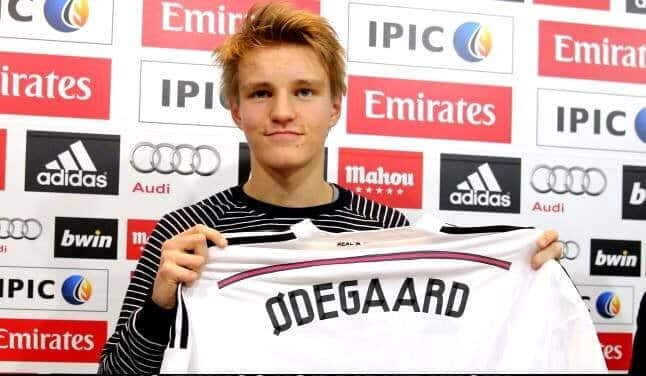 After becoming Madridista, Odegaard said "It's an honor and a dream come true. the reason I chose Real Madrid is because this team has the best conditions, both in sporting terms to develop as a player, and off the field to develop as a person."
"My goal is to become the best player possible. It isn't important if I play in the first or second team. It's a major advantage having second team of a really high level and with a coach who was one of the best players in the world, and it was also important in my decision." The 16 year old said.
The club did not give details of financial terms but the Spanish media reported they had agreed to pay around £2.3million for the 16 year old. It was also believed that Odegaard will be on £80,000 a week at the Bernabeu.
At the age of fifteen years old, Martin Odegaard made his debut for national tea. The playmaker's precocious talent has also attracted the attention of some of Real's fellow European heavyweights like Man United, Bayern Munich, Liverpool and Barcelona. In order to sign this wonder-kid, more than thirty clubs across Europe had been fighting for the player.