Despite draw against Real Betis, the Real Madrid manager Zinedine Zidane stated that he is proud of his team. Los Blancos lost two precious points when they had the chance to close the gap with Atletico Madrid who also drew against Sevilla. It was a tough weekend for all the three giants of La Liga and only Barca successfully won against their rivals Malaga in a 1–2 narrow win. But Zidane is happy with comeback performance of his squad and had some positive words about Los Blancos in post match interview.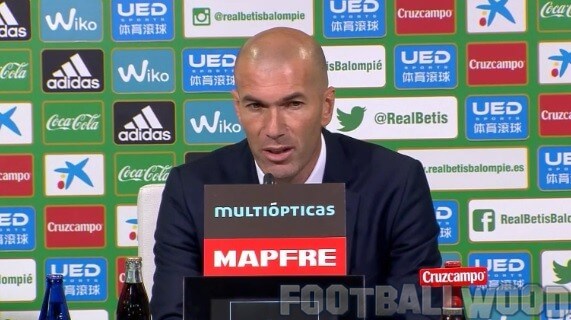 Zinedine Zidane: I Am Very Proud Of What We Did Tonight
When he was asked about the disappointment of draw against Real Madrid, the manager told to reporters that "No I'm not disappointed, we are going to continue with our line of work, we are on a good path." Read also: La Liga 2015–16 top scorers "You have to take the positives — we lost two points and that's the negative — but we think this can be taken forward and we can fight for La Liga until the end." "The good thing is that I saw an improvement late in the game, in the second half. We now have finished our third week together and we are going to keep working." "I am very proud of what we did tonight, we are just missing the two points." After draws from Real Madrid and Atletico Madrid, current La Liga champions are enjoying the first spot of the league with four clear points with a game in hand. Real Madrid will play their next game against Espanyol at Santiago Bernabeu on Sunday.