Almost all matches of group stage of UEFA Champions league are played & some teams has qualified for the Round of 16. Again in this season, highest number of English clubs entered next round which is round of 16. The current Champions of champions league also have qualified for next round but the English club Manchester City has taken revenge of its loss of first meeting of group stage. Even after a loss with Man City, the German club Bayern Munich is still at top position in Group D. This season is going to be more exciting & lots of predictions are already done. SO according to you, which club will win UEFA Champions league this season? Lets have a discussion on this topic.
Teams qualified for Round of 16 this season
For this competition, 16 professionals football clubs will play round of 16. After group stage, 2 teams form every group have entered into Round of 16. Three Spanish clubs, 4 English clubs & some other clubs also got ticket of next round which are given below: GROUP A: Manchester United, Bayer Leverkusen GROUP B: Real Madrid,Galatasaray GROUP C: Paris Saint Germain, Olympiacos GROUP D: Bayern Munich, Manchester City GROUP E: Chelsea, FC Schalke 04 GROUP F: Arsenal, Dortmund GROUP G: Atletico Madrid, Zenit FC GROUP H: FC Barcelona, AC Milan
Statistics of Football Clubs in group Stage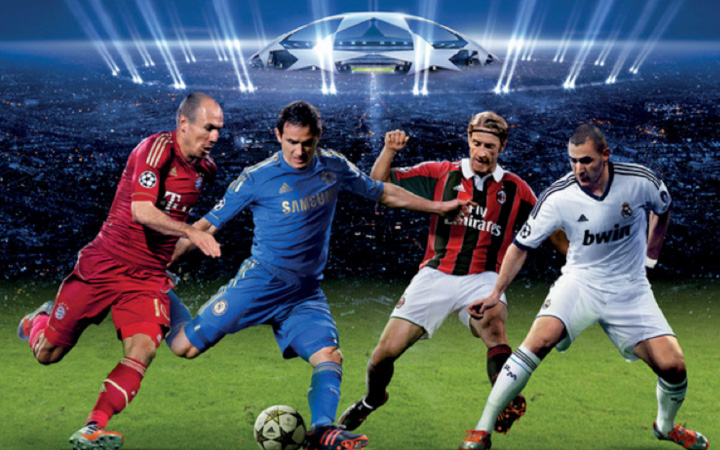 The star striker of Portugal & Real Madrid, Cristiano Ronaldo is now the first player who scored 9 goals in group matches of champions league. He scored his last goal against Copenhagen. Ronaldo's would have been score 10 goals if he did not miss penalty. The English club Manchester City has stopped the 10 unbeaten record of Bayern Munich. They defeated the Bavarians by goal score of 3–2 in home stadium of Munchen, Allianz Arena. The home team scored 2 goals in first half & then they defeated by 3–2. Although Bayern Munich has lost its group stage match against the Sky Blues, but we cannot underestimate the current champions. The Bavarians are still one of the tough competitor of this tournament & they are unbeaten in domestic league Bundesliga. The Spanish club Real Madrid has not won this title in last 10 years. But in this season the performance of the Vikings is really appreciable. Real Madrid was the first team of groups stage to score 20 goals in 6 matches with 5 wins & 1 draw. 2 more Spanish clubs i.e. Atletico Madrid & Barcelona are still in the race of this title. Barcelona is still on top of La Liga & has lost single game against Ajax Amsterdam in the absence of Lionel Messi. Messi will make comeback in the moth of January & will play Round of 16. The English clubs Manchester United, Man City, Arsenal & Chelsea are also one of those teams which can make huge impact on other teams. No matter what is the performance of Manchester United in Premier league, their performance in Champions league is just brilliant & they are the tough competitor of this trophy. After defeating the current vice champions Borussia Dortmund in their home stadium & holding top position in Premier league, Arsene Wenger's club may lift this trophy for the first time. After giving back to back perfect performance, Manchester city is also in the race. So, Who will win UEFA Champions league this Season, Vote for your club on right side of this page.