Netherlands defeated Costa Rica in a close encounter after struggling a lot to qualify for the semi final of 2014 FIFA World Cup. Given below is the link to watch video highlights of Netherlands vs Costa Rica match with penalties shootout. Brilliant saves from Tim Krul who was brought in by Van Gaal turned as the best substitute of the competition. Holland have qualified for semi final of FIFA World Cup for second time in a row. Los Ticos played a defensive game, but they were not able to beat Tim Krul who penalized them with defeat. The Oranges will play their next match against Argentina.
Netherlands vs Costa Rica [4:3] Highlights & Penalties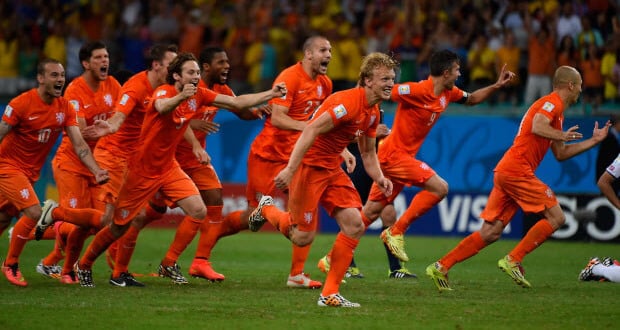 | | | |
| --- | --- | --- |
| Netherlands | Penalty | Costa Rica |
| | Missed | Michael Umana |
| Dirk Kuyt | Scored | |
| | Scored | Cristian Bolanos |
| Wesley Sneijder | Scored | |
| | Scored | Giancarlo Gonzalez |
| Arjen Robben | Scored | |
| | Missed | Bryan Ruiz |
| Robin Van Persie | Scored | |
| | Scored | Celso Borges |
Neither Holland, nor Los Ticos scored in first 90 minutes of last quarter final. Coach Van Gaal made a change & he brought in Tim Krul in extra time. Both teams were failed to break the deadlock, the match went to penalties. All flying Dutchmen scored in penalties, last was scored by captain Robin Van Persie. Two players from Los Ticos Michael Umana & Bryan Ruiz missed each which resulted loss in quarter final. You can watch highlights video of this match on official website of FIFA. Just click on the link & you will be directed to a new page which contains video of this match.
Watch highlights of Netherlands vs Costa Rica [4:3] highlights here: Click here.
Holland will now face Argentina in second semi final of this World Cup on 9th of July 2014. Argentina qualified for last 4 round after defeating Belgium by 1–0. Gonzalo Higuain scored the winning goal for the whites & Sky Blues. First semi final is scheduled to be played on 8th July.