What could be the best moment at Wimbledon when you see David Beckham showing his catching skills during tennis match. The former England footballer was enjoying a tennis match, but suddenly an incident happened that made the match unforgettable. Beckham found his moment to shine when Peers was serving in the opening game of second set. Here is the video of David Beckham's catch at Wimbledon 2015 tennis match. As his serve was declared out. The ball ricocheted off one of the line judges's chairs and landed on Beckham's hand. One British commentator remarked on his Beckham's ball-catching effort saying "If he had missed that one, he would've been in trouble."
Video: Watch David Beckham's Catch At Wimbledon
Can we have our ball back please…? #Wimbledon pic.twitter.com/cSYrWvfHbH

— Wimbledon (@Wimbledon) July 9, 2015
David Beckham was watching semi final match of Wimbledon 2015 between Jamie Murray — the brother of Andy Murray — and Australian John Peers against Jonathan Erlich and Philipp Petschzner. A serve from Peers denied by the referee went sailing into the crowd, straight into the hands of Beckham.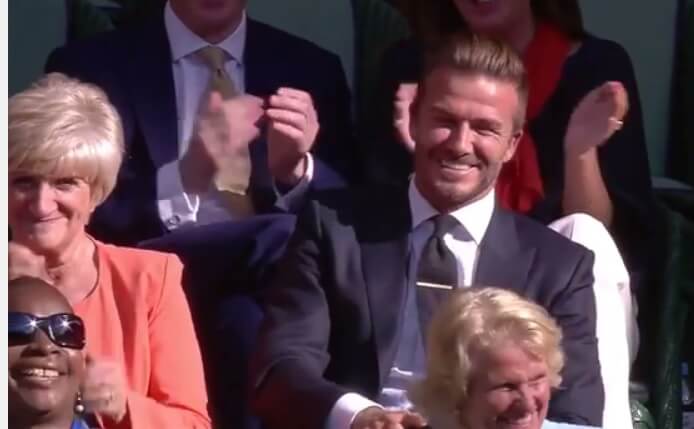 Related: David Beckham biography full name and films
Watch the video of incident below
The camera immediately focused to Beckham, finding a smile on his face. He then threw the ball back into play, but not before waving to the crowd in acknowledgement, finding it difficult to hide a smile. After few seconds, the crowd gave huge round of applause to him.
Download David Beckham Goals & Skills Videos
David Beckham all hairstyles with wallpapers
Murrey and Peers were a set down at the time, but spurred on by the electric atmosphere created by Beckham's catch, they fought back to book a place in the final.
Magical no? Don't enjoy this video alone. share it with others as much as you can and surf the other pages of footballwood for more interesting stuffs.