Not only fans who copies goal celebration of footballers, but there are some professional footballers also likes to do celebrations of world class player. Another player got world's attraction when he scored from corner kick directly and the celebration was even wonderful. Theerathon Bunmathan have scored such a goal that every corner kick taker wants to score. You may have seen direct goals from corner kicks, but you'll be amazed when you'll watch the goal celebration of this Thai footballer.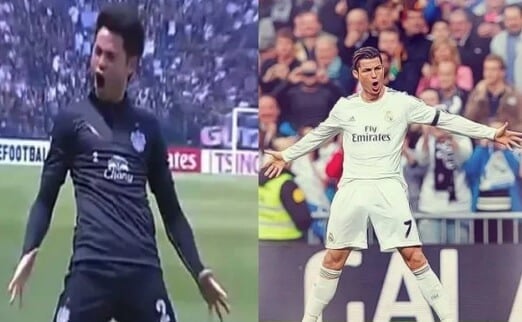 Theerathon Bunmathan Scores From Corner and Did Ronaldo's Celebration
The Thai footballer took corner kick during AFC Champions League group stage game against Japanese team Gamba Osaka. He curled a beautiful set piece which flew into the unmarked far corner of the goal, over the goalkeeper and did same celebration as Cristiano Ronaldo does. Have a look on the incident video below.
https://www.youtube.com/watch?v=17XfGFDfr44&feature=youtu.be
He gave the early lead to his side, but couldn't save defeat against Gamba Osaka. His corner kick goal is enough to remember his beautiful goal. He has now added himself in scoring incredible goals that have already scored by superstars like Diego Forlan, Thierry Henry, David Beckham.
Do You Know? Some NFL players have injured themselves while copying the goal celebration of Cristiano Ronaldo. Lamarr Houston, a defensive end who plays in NFL for Chicago Bears tore his ACL while doing the celebration.
So watch and enjoy this video. If you liked it, you can share it with your friends and football fans using social buttons below.