The Brazilian winger Neymar expressed how he felt after being substituted in La Liga game against Sevilla in 2–2 draw. Even after scoring second goal for the away side with free kick, the winger was looking not satisfied with substitution. He was to quick to express his discontent with manager Luis Enrique's decision to take him off. Watch the video of incident below.
Video: Neymar's reaction after being substituted
It was tough game for both sides and even after 2 goals lead, the league leaders ended with draw that closed the gap between Barca and Real Madrid. For Barcelona, Lionel Messi broke the deadlock and scored the opening goal at Ramon Sanchez Pizjuan.
After Messi's goal, The Catalans got free kick just from outside the penalty box. Neymar took the responsibility and made no mistake. It was second goal of the visitors and after half time, Barcelona were leading with 1–2.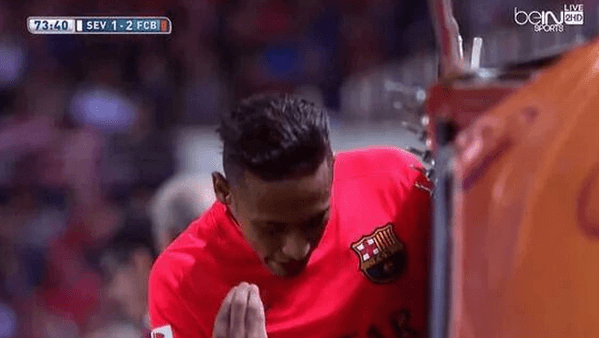 The right footed Kevin Gameiro took shot from the center of the box to the center of the goal, assisted by Aleix Vidal following a fast break. He scored the equalizer and Sevilla remained unbeaten at home this season.
When Luis Enrique was asked about the Neymar's substitution he told to reporters
"I am not interested in talking about this kind of nonsense. It is becoming fashionable to do this and it's nonsense. I am interested in the team winning and this sort of thing is simply uninteresting."
"I did the swap to seek more control on the game in midfield, I thought it was necessary." When asked about the La Liga title race, the Barca manager said
"I've no idea. I'm bad at maths. Until the end of match day 38, I do not know how it will end. As of match day 31, we are the leaders."
"In the first half we were clearly superior, with great football and we were in control. It's too bad that we let them pull a goal back, though. The second half was more balance and we paid for our errors."
Barcelona are still at top of the table with two point ahead of El Clasico rivals Real Madrid. They will now face Paris Saint Germain in quarter final on 15th April 2015 at Parc des Princes.