Lionel Messi showed some of skills of amazing ball control during a Japanese game show. A video of insane ball control was also recorded featuring Messi with his amazing skills of ball control. A Japanese game show tried testing just how good Messi is by having him kick the ball over an 18m bar about 60 feet — running, underneath, and controlling it on the other side.
Video of Messi Amazing Ball Control in Japanese Show
The 27 year old footballer juggled for few seconds and then kicked the ball into the air. The ball crossed the bar tired on a crane, he quickly went to other side of bar and controlled it without letting it hit the ground.
https://www.youtube.com/watch?v=cedNyPE_K‑s
he then adds flare to the dramatic by doing a few keepy-uppies after the landing. If only the soundrack was set to Led Zepplin's original "Kashmir" instead of the Puff Daddy knockoff "come with me" from the ill fated 1998 Godzilla movie, perfection would be achieved.
He is renowned for his first touch and dribbling prowess, but this is something altogether weirder and more impressive. Masahiro Tanaka's wife Mai Satoda, a sometimes Japanese game show presenter, does not appear to be involved. You can watch and save the .gif picture of this video which is given below.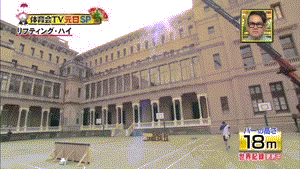 Lionel Messi can also play keepy-ups with himself by booting a ball over a barricade sixty feet in the air, running to where is drops, controlling it, and doing it all over again. How is that possible? Many be his feed are coated by glue, but that was a joke.
Messi is again voted for the top 3 contenders of 2014 best player. At this point, the voters of FIFA Ballon d'Or should have to take into account Japanese performances, for the are the true tests of ridiculous