Once again, Cristiano Ronaldo faced another chanting from away fans, but this time, he encouraged them to chant even louder. Ronaldo was on international duty with his national side for Euro 2016 qualifier. The Portuguese have had a game against Albania on Monday, but before the game, an interesting incident happened during warm up session. Albania fans were chanting "Messi! Messi!" to criticize Ronaldo and the way Ronaldo replied to them was just unforgettable. Wanna see his reply? Take a look on the video below.
Cristiano Ronaldo's Reply To Albania Fans Chanting "Messi! Messi!"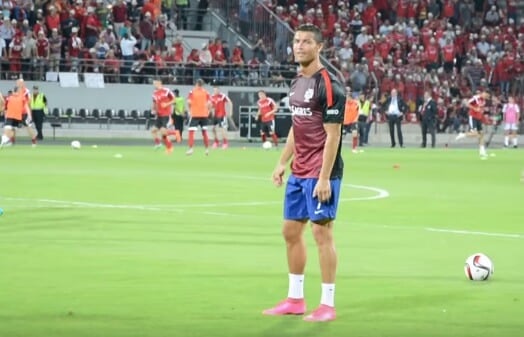 Taking the home support advantage, Albania fans were chanting Messi and they were in full force. This is not the first time for Ronaldo as he was criticized by fans. He found a new way of dealing with the chants. Watch the video of incident below. https://www.youtube.com/watch?v=qK-6B73yofg Don't miss: Download video of Cristiano Ronaldo's 5 goal in one game The game ended with final score of 0–1 in favor of Portugal. Balaj was the only goal scorer of the game who found the back of the net in 52nd minute of second half. The navigators are leading the group and are just few steps away from qualifying into the finals of Euro 2016. However, Albania are at third spot in Group I behind Denmark [2nd spot]. Did you like the way he responded to the Albanian fans? Share your thoughts with us via the comment box provided below.