Video of Cristiano Ronaldo's incredible Nutmeg against defender of Deportivo La Coruna in Saturday [14th Feb 2015] match of La Liga.
No matter how the Real Madrid forward is performing this year. The player is currently the best player in the world and he proved it once again on last Saturday. Cristiano Ronaldo, who is known for his great skills and goal scoring record entertained home crowd with a brilliant nutmeg against Pablo. Ronaldo failed to continue his dominant run this year, but he and his team are bouncing back after humiliated defeat over Atletico Madrid.
Video: Cristiano Ronaldo Nutmeg Vs Deportivo Defender Pablo
The superstar of Real Madrid nutmegged Pablo with an "Elastico" that left the veteran defender on the ground. Pablo tried to stay on his feet as coaches have told him to do through the years, but Ronaldo's stunning dribble made the fullback defender lose his balance and fall to the turf.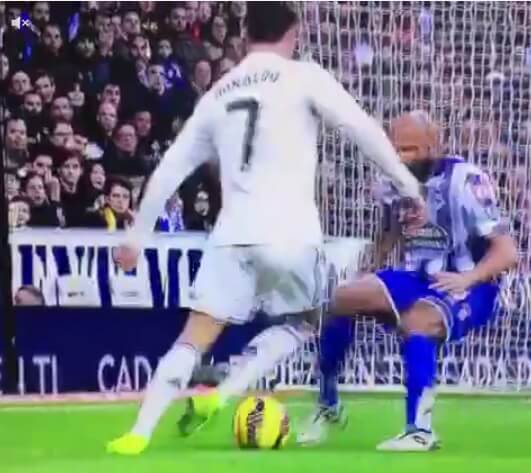 Ronaldo's jaw-dropping dribble didn't end with his team scoring a goal, but that wasn't the point of this particular post. Ronaldo probably will score in Real Madrid's next game.
Given below is the the video of Ronaldo's nutmeg. Have a look on it
It was first game of Real Madrid after their 0–4 defeat over city rivals Atletico Madrid. The Spanish midfielder Isco gave Real Madrid lead in 23rd minute of first half. After 45 minutes, Real Madrid had 1–0 lead over the visitors.
The French forward Karim Benzema scored the second in 73rd minute. The game ended with 2–0 win for home side and now they are still on the top of table of La Liga 2014–15 with 57 points in 23 games.
Carlo Ancelotti's squad will now play the round of 16 match in UEFA Champions League against German club FC Schalke 04 on 18th Feb [GMT].